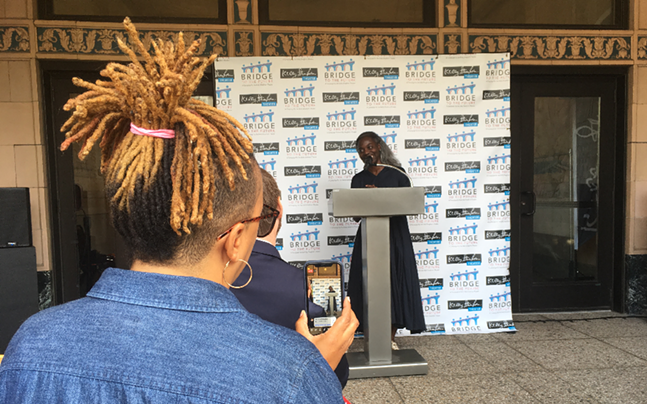 At a small gathering outside of the
Kelly Strayhorn Theater
in East Liberty this morning, a handful of local community leaders met to help kick off the Bridge to the Future, a campaign to secure the theater's future.
Informed by Imagining A New Future, a series of community conversations conducted by KST, the Bridge to the Future campaign encourages the public to support the theater and its programs either by attending events or through donations. KST's executive director, Janera Solomon, said the Bridge to the Future campaign had already secured 70 percent of its $500,000 goal, and that funds raised would be used to, among other things, make improvements, such as replacing the theater's old audience seats.
To illustrate why the campaign was so vital, Solomon relayed an experience she had during a recent visit to the Adams Morgan ward in Washington, D.C., a neighborhood she said is currently undergoing similar redevelopment as East Liberty.
"I came across a sign on a block that paid tribute to an old theater that had been on that block and there were photos of all the things that had happened at that theater," she said, before revealing that the theater was now home to condominiums and a pet hospital.
She stressed that public support was key to ensuring that KST, a local arts and cultural institution that has existed in East Liberty since 1914, remain in operation for future generations. They also want to continue being what Solomon calls a "platform of yes" in which artists of all backgrounds and skill levels can perform and hone their craft.
"The community values us because we create inclusive supportive spaces for community expression," says Solomon, naming local artists like Alisha Wormsley, Bill Shannon, Sean Dorsey, and Staycee Pearl who have all worked and performed at KST.
The campaign kick-off comes just over a month after Solomon
announced her resignation
after 11 years as KST's executive director. In a press release, she said that while she was moving into a new chapter of her life, she planned to "continue in the work" of "supporting community anchor institutions and bringing diverse communities together through the arts."
The event also served to highlight KST's upcoming fall season of programming and events, beginning on Sun., Sept. 15 with
Sari-Sari
, a dance and music recital co-presented by the Phillippine-American Performing Arts. The season extends through mid-December with a diverse array of dance and music performances, writing workshops, community events, and more.
Dan Gillman, former city council member and chief of staff to Mayor Bill Peduto, explained his own history with the theater, when, 15 years ago, he attended a meeting with the East Liberty Chamber of Commerce.
"We talked about how [KST] sat as the anchor of what East Liberty was, is, and will be," said Gillman, who attended the event in place of Peduto, who was in Washington, D.C., lobbying for gun control.
Gillman stressed how the theater was key to the economic health of East Liberty as an arts destination. He added that, like nearby Garfield, where the Penn Avenue arts and business district has thrived over the years, KST was also helping the surrounding neighborhood go through a state of transition in an "inclusive and equitable" way.
This comes as local activists and community leaders have expressed concerns over what they view as fast-developing gentrification pushing longtime residents and businesses out of the predominantly Black neighborhood. Spurred by the opening of the Centre Avenue Whole Foods in the early 2000s, many East Liberty storefronts have since been replaced by trendy restaurants, retail stores like Warby Parker, and luxury apartment buildings.
However, KST has served as a site of pushback against some of the negative effects of these changes, including hosting a public forum for people upset over
the controversial removal
of Wormsley's "There Are Black People In The Future" public billboard art project.
Also speaking were KST board chair Yvonne Campos and Pennsylvania State Representative Ed Gainey (D-Allegheny), who both praised East Liberty for its diversity and rich history, respectfully.
In a short moving statement, Gainey talked about his own connection to KST as a kid growing up in East Liberty, and called the theater "a pillar of the community."
"Small theaters like this must stay alive," said Gainey.