In 2013, the Black Radical Imagination series was founded as a way to bring daring new visual media by and about Black people to cities throughout the world. Created by Los Angeles-based curator Erin Christovale and filmmaker Amir George, the series uses the aesthetics of Afrofuturism, Afro-surrealism, and magical-realism to meditate "on the various ways Black people attend to their lives, despite traumatic histories — both personal and collective — and a troubling present."
Thanks to a partnership between Kelly Strayhorn Theater and Carnegie Mellon University's Miller Institute for Contemporary Art, the latest edition in the series,
Fugitive Trajectories
, is headed to Pittsburgh's Kelly Strayhorn Theater this weekend.
"The importance of bringing [the program] anywhere that Black folks are under siege and that's not something new," says Jheanelle Brown, who guest curated the program with Darol Olu KaeBrown. "But the particular ways that it's manifesting itself right now, it's important for us to reclaim our narrative, and that's what these works do."
So far,
Fugitive Trajectories
has shown in Los Angeles, Washington, D.C., Boston, Chicago, and Montreal, with Seattle planned as a future stop.
Though she's based in Los Angeles, Brown says she's aware of recent events in Pittsburgh, including the backlash surrounding
the removal of the "There are Black People in the Future" billboard project
by local artist, Alisha Wormsley.
The mission of the program seems especially relevant in the recent aftermath of the Antwon Rose Jr.
trial
, during which jurors found a police officer not guilty for shooting an unarmed Black teenager in East Pittsburgh. The verdict immediately set off
a number of protests
in neighborhoods throughout the city.
"Part of [the program] is about community building," says Brown. "The specificity around Pittsburgh is that it's a major metropolitan city that, like all metropolitan cities, has important socio-political issues to work through, and these films are in conversation with that."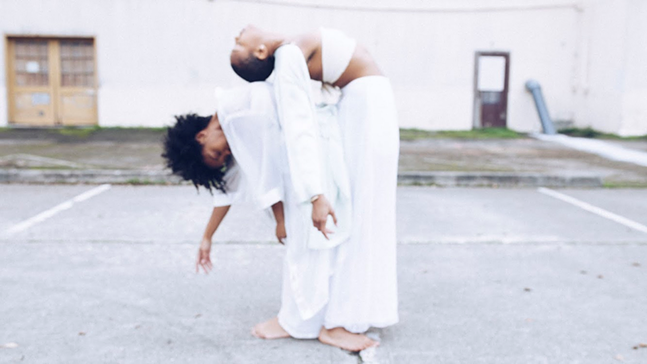 Brown says the goal of the program was to have "a good mix of voices and perspectives" from emerging and established filmmakers.
Most of the films, including
The Ancestors Came
by Cecile Emeke,
Garden
by Alima Lee,
Copper
by summer mason,
Mugabo
by Amelia Umuhire, and
Under Bone
by dana Washington, all run between 5 to 7 minutes. On the longer side is
Fluid Frontiers
by Ephraim Asili — at 23 minutes, it serves as the fifth and final installment in a series exploring Asili's personal relationship to the African Diaspora and features poems and artwork by Detroit artists. At 10 minutes,
Rebirth is Necessary
by Jenn Nkiru "explores the magic and dynamism of Blackness in a realm where time and space are altered," all with a soundtrack of snippets and music by notable Black authors, artists, and musicians, including James Baldwin, Sun Ra, Chance The Rapper, and Audre Lorde.
In addition to the films, Brown says they worked with Kelly Strayhorn and Miller ICA to orient the event around people who are "artistic and thought leaders in Pittsburgh." They brought on Wormsley to serve as a moderator during a conversation with Brown and Olu
Kae,
and will showcase a performance by Pittsburgh-based singer-songwriter, Kendra Ross.
"In some of the past years, there have been live performance elements that have been integrated by local artists, but this is the first time that Darol and I are doing it with our program," says Brown. "So we're really excited to incorporate pre-eminent Pittsburgh artists, and we're really happy that Kelly Strayhorn and Miller ICA helped us come up with the idea."