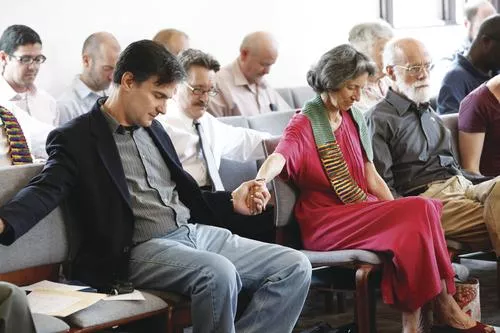 At first blush, this church service looks like any other service taking place on this warm, sunny June morning.
Rev. Janet Edwards stands before the congregation at Community House Presbyterian Church offering a sermon. The congregants bow their heads for prayer, offer punctuating amens and sing from the blue Presbyterian hymnal.
It is indeed a very similar service to those going on at the same time in churches all across the city -- except for the rainbows.
There is no altar at Community House -- just a central table, a reminder that all are equal no matter their station in life, sexual orientation or identity. In the middle of that table sits a rainbow-colored runner, anchored by a vase filled with sunflowers. Rainbow cloths hang from podiums on either end of the room. Hand-knit rainbow scarves drape across the shoulders of maybe half the people in attendance. And everyone has been offered a rainbow sticker, a global LGBT symbol, at the front door.
"The rainbow is for everyone," Edwards says during her guest sermon. "Everyone is in the rainbow."
When other Christians go straight for the hard-lined book of Leviticus, which calls homosexuality an "abomination," Edwards gives them John 12:32, in which Jesus says, "And I, when I am lifted up from the earth, will draw all people to myself."
Sometimes when conversations occur between the LGBT community and organized religion, being called an abomination can actually be considered one of the nicer options. Nicer, anyway, than "God hates fags," the mantra of the Kansas-based Westboro Baptist Church.
But sometimes the interaction between the LGBT community and the church isn't a threatening or uncomfortable experience. The service on June 5 was the third annual InterFaith Pride Service, held in conjunction with the start of Pittsburgh's annual Pride Week celebration sponsored by the Delta Foundation. This service has become an occasion for individuals to come together and practice their faith without the usual politics and exclusions that usually seem to apply.
"Many in the LGBT community were given the false choice between their spiritual lives and their pride in their sexual orientation or gender identity," service coordinator and Community House elder Michael Beigay said in his opening remarks. "As we claim pride in our community, we also do in our faith traditions. We are a spiritual, loving, proud community."
For the last 10 months, the LGBT community at large -- along with its allies -- has focused on spreading a message of hope, a movement led by sex columnist Dan Savage's It Gets Better campaign, which he and his husband started in the wake of an autumn loaded with LGBT teen suicides.
Improving the relationship between Pittsburgh's faith and LGBT communities has been a focus of leaders on both sides of the discussion. But there's clearly a long road ahead. Of the hundreds of places of worship in the Pittsburgh area, just more than 30 truly open their doors for the LGBT community, according to the Pittsburgh chapter of PFLAG (Parents, Families and Friends of Lesbians and Gays). Those that do include Community House, on the North Side; Temple Sinai, in Squirrel Hill; and Christ Hope Ecumenical Catholic Church, in Brighton Heights.
A majority of Pittsburgh's welcoming/inclusive places of worship fall into the United Methodist and Presbyterian denominations, though most mainline protestant groups are represented.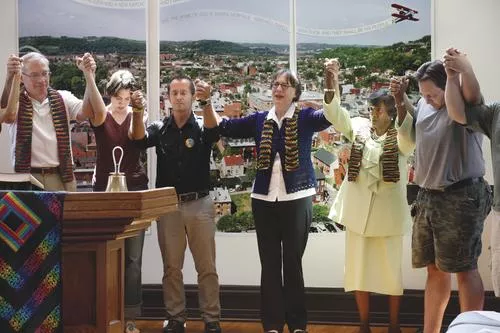 Movements such as the Lutheran Reconciling in Christ and More Light Presbyterians work against such notions as "love the sinner, hate the sin," by eliminating the idea that homosexual orientation is a sin. As a result, they do not discriminate against their LGBT participants, and are, Beigay says, "ready to use the God-given talents of the LGBT community within their churches," and allow them to be full members of the congregation. Beigay, for example, is allowed to be an elder at Community House.
But the dividing line isn't just about a church being inclusive or exclusive, and some have met resistance. Edwards, for example, was tried and ultimately acquitted on a technicality in 2006 by the Presbyterian Church (U.S.A.) for officiating a lesbian wedding. Last month, the church reached a majority vote on Amendment 10A, which would allow openly gay men and women to be ordained as ministers and installed as deacons and elders.
To date, 96 Presbyteries have ratified the amendment. Though Pittsburgh Presbytery is not one of those 96, it is home to three full LGBT-inclusive More Light churches -- an offshoot group of churches within the Presbytery, of which Community House is one -- and seven others with lesser levels of acceptance.
A recent poll conducted by the Human Rights Campaign shows that a majority of Christians in all age demographics (in some cases, majority meaning slightly more than 50 percent) are in favor of LGBT equality in terms of the law and protection in issues such as employment and housing, as well as in favor of anti-bullying endeavors. A majority are also against the Defense of Marriage Act -- which defines marriage as between a man and a woman only and allows states the ability to recognize, or refuse to recognize, same-sex marriages from other states -- and are of the belief that LGBT condemnation by religious leaders does more harm than good.
There is no larger local or regional group dedicated to an interdenominational effort on behalf of LGBT inclusiveness. Edwards is one of the most visible local activists -- she sent out invitations to her church trial before the Pittsburgh Presbytery on the North Side in 2006 -- and she maintains a website called A Time to Embrace. On it, she writes that enthusiasm for such causes waxes and wanes. Currently, interest in Pittsburgh is waning after a more active period early in the last decade.
"There are many people in the LGBT community that have strong faith and spirituality; however, I do not think everyone knows or feels comfortable with organized religion," says Joanna Camarda, an elder at Sixth Presbyterian Church and head of its More Light Committee.
And, as Beigay says, "Although there are still very many conservative churches that say they are welcoming, the welcome ends when you come in the door to worship. You cannot be yourself, who you are, and be a part of that church."
But during the InterFaith Pride service, notions of conservative church doctrine were replaced by the approximately 100 people who attended to hear and share positive and encouraging experiences among welcoming faith groups.
Mary Almoi, a transgender woman who is currently between churches, spoke of a lifetime in a church that told her she'd be better off dead than being herself. She survived multiple suicide attempts and now faces her own unemployment after beginning in February to live fully as a woman. Her wife, a pastor, was removed from her job when she announced she would be staying in her marriage.
When she first stumbled across More Light representatives at a General Assembly meeting, Almoi says, "I walked through that door and told them who I was. They said, 'OK.' They didn't say, 'Kill yourself.'"
The service was an emotional event for many in the congregation. Fritz Graf, a self-proclaimed "flaming heterosexual," told those in attendance, "I don't know why I'm getting so emotional. ... Your effect is greater than you know."