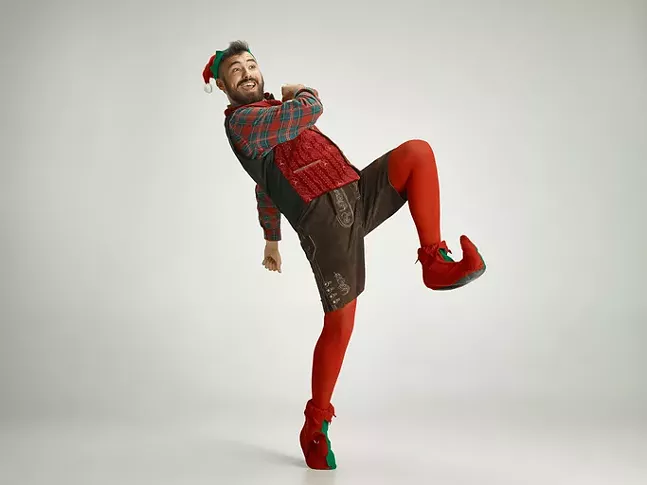 The holidays are approaching, and while planning all the trappings of a jolly Yule is festive and exciting, there are also some unappealing tasks that attach themselves to the season like a suckerfish. Wrapping presents is more difficult than solving a Rubik's Cube. There will be nonstop parties, featuring nonstop cheese and nonstop booze consumption. And for us suckers with children, there will be The Elf on the Shelf.
My kids are relatively intelligent and skeptical contrarians, which is why I was surprised when they started inquiring about The Elf on the Shelf after years of us keeping quiet about the menace. But there's no escaping the Christmas Mythological Industrial Complex, and we eventually ended up with not one, but two elves.

If you are not familiar with the concept: Parents prop up little elfin voodoo dolls in their houses, in a different location each night for what seems like 365 days (which is not an easy task when you only have one shelf). The elves sit there and judge your children's behavior like visiting in-laws who have stayed one day too many. Then, as the heralded "Christmas Tradition" started all the way back in 2005 foretells, the elves report the good and bad back to Santa. Kids who want these elves to surveil their every move from their judgmental ivory towers perched next to Yankee Candles is just as masochistic as adults who invite Alexa into their home so that Jeff Bezos can listen to them having sex, or whatever pervy thing he does with those transmitters.

I was definitely into the Big Brother quality of The Elf on the Shelf at first — another piece of weaponry in our ever-expanding obedience arsenal. If you don't get your pajamas on, the elves are going to tell Santa. And that worked probably two times at most. So now we're left with finding new and hilarious locations to put the elves every night with none of the fear-inducing qualities we were promised. Now, it's just another job like taking out the garbage, which I forgot to do this morning.
For the most part, the kids forget about the elves and go on with their days in typical fashion. But when you forget to relocate the elves to a different spot in the house one night, out come the wolves. "Why didn't they move last night?" "Were they tired?" "Are they going to move tonight?" "Why are you drinking so much?" And so forth.

I love Christmas with its togetherness, traditions, and cheese/pepperoni trays, but The Elf on the Shelf is for the birds, three French hens, two turtle doves, etc.