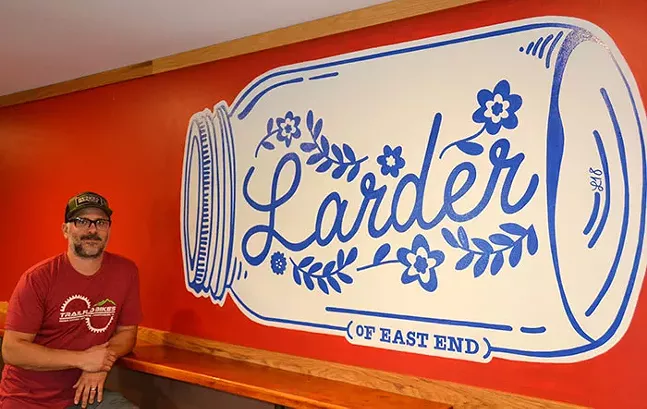 East End Brewing Company is getting a restaurant. On July 5, Larder of East End officially opens.
The concept is a collaboration between award-winning chef Justin Severino, Hilary Prescott Severino, and East End owner Scott Smith. It's a casual, counter-service restaurant adjacent to the brewery's bar, the inside seats 85 with more options outside.
Severino and Prescott Severino announced the partnership with Smith in January of 2018. It was a natural fit, since East End beers were on menus at Severino's restaurants since the beginning.
Larder of East End is a departure from Severino's more formal restaurants, Morcilla and the recently closed Cure. The casual counter works well for Smith's brewery.
Severino has created a seasonal menu for the brewpub restaurant. It's a small list that boasts incredible flavor. Vegetarian options include a gem lettuce salad, falafel, and potatoes with smoked blue cheese. There are mussels on the menu, steamed in one of East End's most popular brews, Big Hop. Part of Severino's kitchen renovations include the addition of a smoker, used for brisket and hog barbecue. For the little ones, Severino has chicken tenders, french fries, and mac and cheese. Millie's Homemade Ice Cream makes an appearance, garnishing a homey strawberry cobbler.
Larder of East End opens July 5 at 4 p.m. For now, it will be open Wed.-Sun.
Ball Pit Party
Kids love ball pits. There's nothing better than the chance to dive and swim around a pool of plastic balls. And now, as an adult, you can relive that fun! Ball Pit Party!, a ball-pit themed pop-up bar, is an adult playground to the city.
The ball pit at Ball Pit Party! will be filled with five-hundred thousand LED balls. Dive in and out of the lit pit as it blinks in time to tracks spun by DJs. Once you've had enough, visit the bar to re-energize with a cocktail.
The bar is set to come to Pittsburgh Sept. 28 and 29. Sign up for pre-release tickets
Food Trucks & Farmer's Markets
It's the middle of summer, which means it's peak time for farmers' markets and food trucks. Make the most of the season! Eat something from them all. Here are a few mobile eateries worth seeking out.