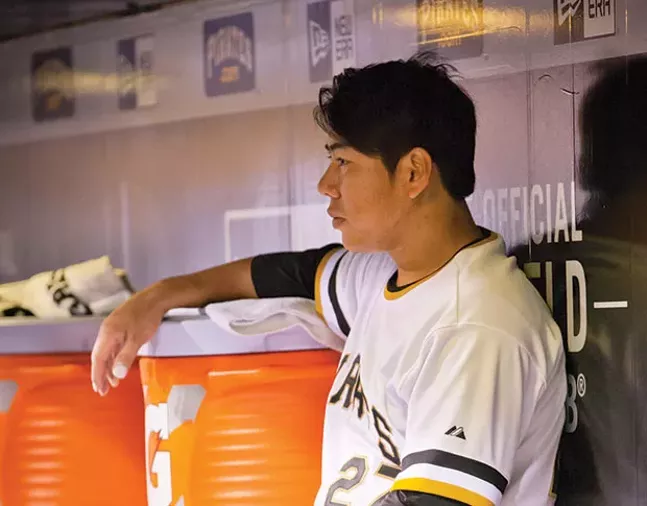 Pittsburgh Pirates third baseman Jung Ho Kang is back in the United States. He finally received a work visa from the U.S. government more than a year after being convicted in South Korea for a third-offense DUI.
Because of the conviction, Kang had been denied entrance into this country until early last week. He is first headed to Bradenton, Fla. to start getting into baseball shape in the hopes of returning to the Pirates this season. The decision to allow Kang back into the country came as a surprise to many. Aside from the DUIs, there's still also an open investigation into allegations that Kang drugged and sexually assaulted a woman in Chicago. The case stalled in the fall of 2016 because police could not locate Kang's accuser.
But still, given the state of immigration policy in this country, Kang gaining re-entry is a bit stunning. Does anyone know the legal definition of "Bad Hombre," because I'm confused.
He had three DUIs in his home country and was accused of sexual assault in this one. When he entered the first time, he already had two DUIs under his belt and now he's getting a second bite at the apple.
"I am very grateful to the U.S. government for giving me a second chance to demonstrate my pride in and appreciation for being allowed to continue my dream of playing Major League Baseball in the United States," Kang wrote in a statement released April 27.
Kang is here legally and he did it the "right way" by "waiting in line" for his turn. In fact, he's now done it twice, the second time with three DUI convictions and a sexual assault allegation hanging over his head. So, why did he get two shots at the American Dream? Two Reasons: 1. He's good at baseball. 2. He's not Mexican.
City Paper has covered many cases of individuals who have been aggressively hunted down by U.S. Immigration and Customs Enforcement agents and expelled from this country. We've spent a lot of time the past couple of years covering the case of Martín Esquivel-Hernandez, a Pittsburgh man who came to this country undocumented. In the time he was here, he worked, supported his family, was active in his kids' school and was an activist for the immigrant community. Regardless, he was picked up and shipped out of the country.
I know the so-called counter argument to this: If he's undocumented, he has to go and do it "the right way." But let's face facts — and the Kang case is an excellent example of this — most Mexican citizens who try to "wait their turn" never even get a shot to "do it the right way." Conversely, Kang, a famous guy with felony convictions, is now on his second chance before most people ever get their first.
Unfortunately, that's the way things are today. We don't have room for Mexican immigrants with clean records who want to work hard and care for their families in this country. After all, we've got to make room for baseball players with checkered pasts and the ability to hit home runs.