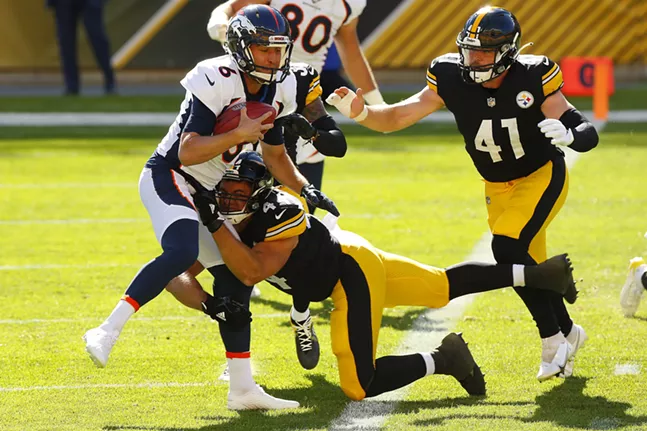 A federal judge in Washington, D.C.
granted permission for Jan. 6 insurrection defendant Thomas Fee, a native of Long Island, New York, to travel to Pittsburgh for the game between the Pittsburgh Steelers and Denver Broncos that took place at Heinz Field on Oct. 10, according to investigate reporter
Scott MacFarlane of Washington, D.C.'s NBC4
Fee was charged on Jan. 16
with knowingly entering or remaining in any restricted building without lawful authority, violent entry, and disorderly conduct
on the Capitol grounds
. Court documents claim Fee sent a selfie and video from inside the Capitol and drove to Washington, D.C., on Jan. 5, returning the day after the insurrection, Jan. 7. Prosecutors did not oppose his travel, according
to court filings
.
DC federal judge granted permission for Jan 6 defendant Thomas Fee of NY to travel to attend this afternoon's Pittsburgh Steelers-Denver Broncos game

— Scott MacFarlane (@MacFarlaneNews) October 10, 2021
A U.S. Diplomatic Security Service special agent contacted Fee directly over text after Fee's girlfriend allegedly posted about his involvement on Facebook, and according to court documents, Fee admitted his participation in the insurrection via text message and sent the agent the selfie that had allegedly been taken inside the Capitol Rotunda. Fee surrendered to the FBI on Jan. 19 and pleaded not guilty on all counts Feb. 25.
Fee was released on a $100,000 bond. The former New York City firefighter, who worked for FDNY for 22 years before retiring October 2020, was ordered to avoid political gatherings, stay away from the U.S Capitol and state capitols, not make contact with any co-conspirators, and surrender his shotgun and rifle.
🚨NEW: a D.C. federal judge has just granted permission for January 6th defendant Thomas Fee to travel to attend a Pittsburgh Steelers-Denver Broncos game.

Absolutely absurd. One system of justice for white men in this country and another for everyone else. pic.twitter.com/8prUtpAQh2

— Kaivan Shroff (@KaivanShroff) October 10, 2021
This is not the first time
a federal judge has granted a Jan. 6 defendant permission for leisure travel. In February, District Judge Trevor McFadden granted Jenny Cudd's request to vacation in Riviera Maya, Mexico, a region with many resort towns on the Yucatan Peninsula. Cudd's request was granted two days after Cudd was indicted on five federal counts, including one felony.
Fee returned to his Long Island home Mon., Oct. 11. Fee's request, and his success in having it granted, has
sparked commentary about how the fact that Fee is white has affected his treatment
.
U.S. Capitol Police Sgt. Aquilino Gonell
, an immigrant from Dominican Republic who was severely injured defending the Capitol,
told MacFarlane of NBC4
, "If the shoe was on the other foot … I wouldn't be permitted to go to a football game in Pittsburgh … Plus I'm too injured to go."