If you believe comedy is struggling in the Steel City, the inaugural Pittsburgh Comedy Festival dares you to think again.
This ambitious three-day event includes headliners Judah Friedlander (of 30 Rock fame), Cackowski & Talarico and Tim Dimond, and nearly 40 other local and national improv and standup acts. The festival also fosters budding Pittsburgh talent with talks and panel discussions.
"Everyone is excited about a growing comedy presence in the city," says festival executive director Brian Gray, citing an outpouring of support from both the arts community and regional sponsors.
That's a complete turnaround from just a few years ago. After several Pittsburgh clubs closed their doors, the indie comedy scene threatened to vanish altogether. But alongside weekly open-mic events and standup showcases at area bars — and the Pittsburgh Improv, part of the national chain that focuses on touring acts — the city now features three indie comedy venues: Downtown's Arcade Comedy Theater, Shadyside's Steel City Improv Theater and Lawrenceville's Unplanned Comedy Pittsburgh.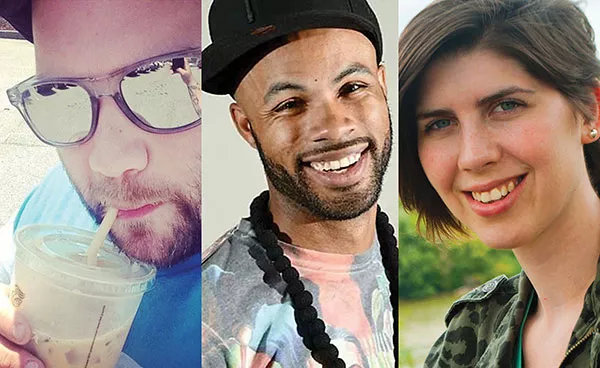 After fighting for visibility, local performers are thrilled at the city's evolution.
Before Arcade existed, "comedy shows were done in dark, smoky bars," says Pittsburgh comedian Molly Sharrow. "Clubs make people feel like they are going out for the night instead of standing in the back of a dingy bar."
Yet festival organizers selected an unusual venue: Oakland's Henry Heymann Theatre is known primarily for straight theater. Gray, himself the founder of the Irony City Improv troupe, sees it as a perfect match.
"More and more standups are touring theaters over clubs to focus on the performance aspect of comedy over its history in bars," he says. "And most modern improvisation resembles theater."
Plus, with more than 150 seats, the theater is twice the size of other comedy venues but "still feels very intimate," says Gray.
Local comedian Day Bracey — who'll perform on the festival's opening night — views this close-knit community as ideal for maturing as an artist. "I don't know many other cities where you can get the amount of stage time that you do here, and thus grow as a comedian at such a fast pace."
And there's nothing like learning from the best, like fest headliner Judah Friedlander.
"To watch someone like [him] onstage when later that night I can go home to watch reruns of 30 Rock will blow my mind," says Sharrow, who herself performs on Saturday.
Another headliner, long-form improv duo Cackowski & Talarico, is known nationally for spinning a single audience suggestion into an hour-long theater piece. And Pittsburgh-born Tim Dimond is now a regular on the New York City comedy circuit.
Other acts include Philadelphia-based improv duo Kristen Schier and Steve Kleinedler, who perform as Fracas; Chicago improv trio Kingsburg ("like three sock puppets on a business lunch"); and Durham, N.C.-based comic Julia McClung.
Meanwhile, for his own standup performance, Shannon Norman eagerly anticipates the best and worst in audience participation.
"I cannot wait to see footage of myself on YouTube that was shot on a [drunken] stranger's shaking flip phone," he deadpans.
Joking aside, "Pittsburgh is not said in the same breath as New York, L.A. and Chicago, but I think it will be one day," adds Norman. "This festival is definitely a stepping stone towards that."