You can see the appeal: director David O. Russell reuniting with his actors from Silver Linings Playbook and American Hustle for another quirky chapter of Americana — struggling mom invents and successfully markets a newfangled mop. But alas, even the powerhouse trio of Jennifer Lawrence, Bradley Cooper and Robert De Niro can't rescue this misfire.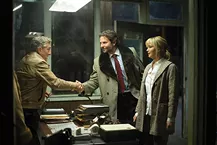 The tale is inspired by the real-life Joy who came up with the Miracle Mop and hawked it on QVC. I can't speak to her life, but the mop parts of this movie trump the wacky-family parts. (The world deserves a decent mop, and I'd like to hear about it.) And when Joy (Lawrence) learns how to translate her scattered dreams (and our desires for better mops) into success via a new home-shopping cable channel, there's a glimpse of a better-focused film.
When Joy first visits QVC's studios, its genius breakthrough is explained to her by its smooth-talking marketing whiz (Cooper): We come into people's homes as friends, sharing products; the selling is soft, and thus, so much more effective. Ironically, it's a critique that this movie, which visibly strains to be warm, inspirational, oddball and marketable all at once, could take to heart. Hey Joy, we can see you trying to sell us, and that makes us uninterested in buying.