Fall Deep, the new album from Joseph Rusnak, aka Glo Phase, marks a minor departure for the Pittsburgh producer. After a steady stream of mostly instrumental EPs and LPs over the past few years, Fall Deep introduces the lyrics and vocals of Jocelyn Rent. The result is a collection of stunning, dreamy, and expertly composed R&B that is hard not to dance to (start with "Unraveling"). Pittsburgh City Paper spoke with Rusnak about making the shift from solo instrumental work to collaborating with a vocalist, and the misconceptions of "background" music.
What was the writing process with Jocelyn like for this album?

Jocelyn and I played in a local band years ago, Omega Love, so [we] had quite a bit of experience working together. Starting in February, I began filling a Dropbox folder with very rough sketches of potential tracks over eight weeks or so. We met up a few times and kept communication open regarding what we were liking, disliking.
She wrote 100 percent of the lyrics; I'd almost be as terrified to write lyrics as I would sing them. She ended up on every track aside from a brief interlude.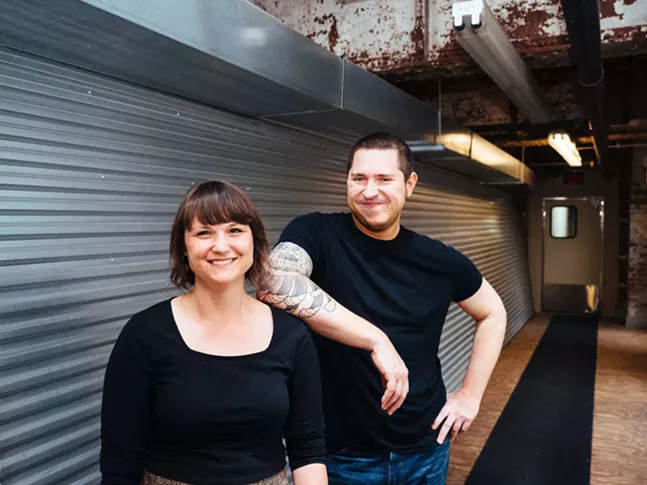 I'm not sure anybody would embrace a term like "chill music," but how do you feel about the term in general? How would you feel about your music being categorized as background?
If my music is being played, or even if I'm playing a live set in a context where it's background (the event doesn't completely revolve around me), I have no issues with it being considered such. Background music still sets a tone and can serve an important purpose, I think. For someone to dismiss all of my music as only capable of being background would be a bit insulting, as I'd imagine it would be to most who make music.
Assuming it's on the grounds that (until this album) it's been instrumental would really just speak more to their own personal connection to music and what they get out of it. I suppose that'd apply to any perceived mellowness being mistaken as a trait exclusive to background music as well. Complexity alone within music certainly doesn't determine its value and beyond that complexity in a lot of "chill" music can be very subtle.
I ask because generally the line between passive music and what's considered foreground, is lyrics and vocals. So in that sense, Fall Deep could be seen as Glo Phase going from background to foreground.
I understood that doing a vocal album would be a bit of a departure from what I've done, but I don't think I really considered it too much. Probably somewhat, as I very much enjoy both instrumental and vocal music.
I don't know that lyrics and vocals would automatically qualify a song as foreground and vice versa. I suppose context has something to do with it. The way the super vocal-to-the-front pop music in waiting rooms can just turn into a wall of noise is in a way the epitome of background music.
I do like the idea of potentially reaching new listeners who wouldn't really get into instrumental music, but that definitely wasn't a motivation in making this. I have quite a few friends that, although are supportive of Glo Phase, I can tell that instrumental music really isn't their thing.
I don't really mind if I don't have the room's full attention, although a super loud PA usually makes me feel much better about it, ha! I guess, in that way, I don't mind it being perceived as background, even if the music is blaring and just setting the right vibe for dancing or hanging out, I'm okay with that. One could still be listening critically if that's their thing. That'd be a bit different than, say, a peaceful, quiet singer-songwriter trying to share their music overtop of a room of screaming drunk people.
I think that type of intimacy can definitely exist in live instrumental, electronic-based music. People maybe just aren't as conditioned to perceive it as much as the example of a quiet singer. We're generally taught to shut up when people are speaking to us, so really, maybe, it's just as simple as that.