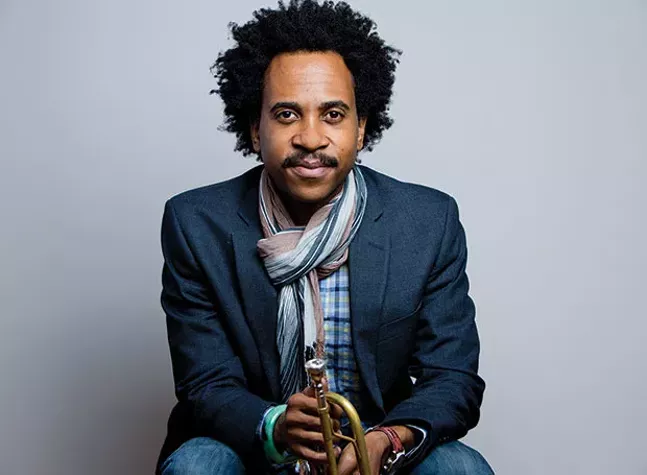 Some trumpet players might pursue a career after hearing legendary players like Clifford Brown or Dizzy Gillespie, or iconoclasts like Lester Bowie, of the Art Ensemble of Chicago. Jonathan Finlayson found his inspiration closer to home. "The thing that sealed it for me was being around other kids that were, at the time, a lot better than me," Finlayson says, on the phone from New York. "It was inspiring and challenging. Some kids a few years older than me were proficient at improvising, with great control or command over their instruments. And I was like, 'Wow, I want to do that.'"
Finlayson has gone on to become an in-demand trumpeter, playing with some of the most adventurous jazz musicians and composers, such as guitarist Mary Halvorson, and saxophonists Steve Lehman and Steve Coleman. His ability to look beyond the conventional has also inspired his own work with Sicilian Defense, an intriguing quintet which comes to town this week.
The trumpeter's ongoing affiliation with Coleman began when Finlayson was fresh out of high school. Coleman — whose music combines multiple rhythms, and manages to groove despite its complexity — had a profound impact on Finlayson. "I remember the first time being introduced to things that have different rhythmic relationships. I was immediately wondering why we started together and why we all were all of a sudden out of sync," Finlayson says. He asked the saxophonist, "'How do I know if I'm right?' [Coleman] said, 'Your timing's got to be strong. You've got to have a good rhythmic pulse.' And I thought, 'Oh geez, these are things that I need to work on. Immediately!'"
Sicilian Defense, which has released two albums, is inspired by Coleman's unique vision, but Finlayson reveals plenty of his own ideas. His bright tone adds a lyrical quality to the often complex time signatures, driven with ease by bassist John Hébert and drummer Craig Weinrib. Guitarist Miles Okazaki acts as both a frontline foil to the trumpet and, much like pianist Matt Mitchell, he quickly pulls back to provide grounding with his chordal playing.
Finlayson named the group for an opening countermove in chess, and that game has also inspired a few compositions. "Ruy Lopez" transposes a series of moves into music. "I figured out my own way to, more or less, have the movement of a piece in the game attached to a harmonic motion. Every change is related to a certain piece moving," he says. The idea was expanded on the group's second album with "Cap vs. Nim," inspired by a game between champion players José Raul Capablanca and Aron Nimzowitsch. Finlayson's vision uses his subject matter skillfully. "I like to think of making an arc to a composition — balancing out certain elements like complexity versus groove," he says.