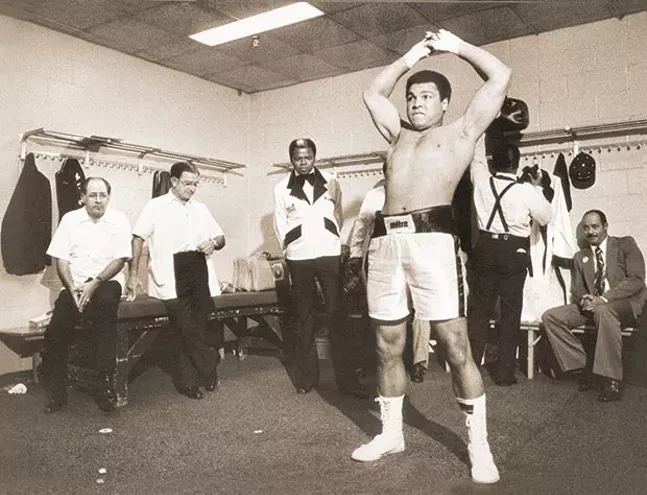 Early in his research for his great new biography of Muhammad Ali, author Jonathan Eig interviewed Dick Gregory. The comedian and activist raised the question of Ali's fearlessness — the unshakable confidence that he'd exhibited since, as 12-year-old Cassius Clay in Jim Crow-era Louisville, Ky., he'd decided he would be world heavyweight champion.
"If you're going to do this book, and it's going to be worth a damn," Gregory, who died in August, told Eig, "you have to figure out why he thought he could go around calling himself 'the greatest.' Why he thought he could challenge authority, why he thought he could talk back to white people and not get killed for it, the way Emmett Till did."
If you can't explain that, Gregory concluded, "then don't bother writing the book."
Eig ended up with Ali: A Life (Houghton Mifflin Harcourt), the first complete unauthorized biography of the boxer. And he found some answers to Gregory's questions, along with much else to illuminate one of the 20th century's most extraordinary lives.
Cassius Marcellus Clay, fast, brash and gorgeous, first won the heavyweight crown in 1964. Already notorious for his cockiness and verbosity when most people's idea of a boxing champ was Joe Louis or Rocky Marciano, Clay drew widespread vituperation for embracing the black-separatist Nation of Islam and starting to call himself Muhammad Ali. Unbeatable in the ring, he was stopped only by boxing itself, whose state licensing bodies kept him from fighting starting in 1967, when he refused induction into the military during the Vietnam War. Ali became possibly the most hated man in America — and, as Eig puts it, "a fist to the white man's face."
Drawing on hundreds of personal interviews (along with previously unreleased material from Ali's FBI files, and long-unheard audiotapes of the young Ali), Eig paints the champ's almost unlimited appetite for attention: from boxing fans, the general public, women. Eig thinks that Ali was driven partly by a desire to out-achieve his abusive father. Eig also uncovered evidence that Ali was dyslexic; young Clay's coping mechanism was to become a life-long entertainer. Then there was boxing itself.
"He thought he was special even before becoming involved in boxing," says Eig, by phone from the road in Indianapolis. "But then when he got involved in boxing, he thought he could be special at a much greater level. That's when he thought he could be famous and he could be rich and he could change the world. … He realizes if he can be great at boxing, he can do all these things that people say he's not supposed to do."
Eig grew up in the '70s and "worshipped" Ali. But in researching the book, the Chicago-based author of acclaimed sports bios Luckiest Man (about Lou Gehrig) and Opening Day (Jackie Robinson) learned things that reframed an idol as human. For instance, though Ali's refusal of military service ultimately proved him heroic, it was hardly a model of consistency. Ali first said he simply didn't want to fight, while not objecting to the war itself. Later, he said the war was racist, forcing blacks to fight in disproportionate numbers; only later did he claim that service violated his religion.
"I think that's what makes him a real hero and makes him worth studying," says Eig. "He's complex, but at the same time he's infuriating, because he doesn't stick to his principles, and he doesn't always live up to his own values."
In his personal life, Ali seemed to see no contradiction between his endless sleeping around and his professions of love for his wife. (He was married four times.) And the young Ali, especially, treated associates much as he treated the public: No matter what outrageous thing he said, he wanted to be loved. "He always thinks that his friends will understand when he betrays them or when he treats them callously," says Eig. "And often he's right — he gets away with it a lot."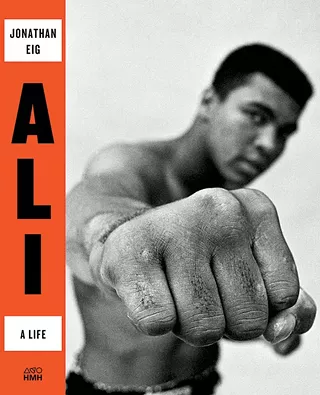 Perhaps most troubling, though, was Ali's mystifying, late-career decision to train by having sparring partners hit him in the head, hard and often. Eig had CompuBox, Inc., tally the estimated number of punches Ali absorbed in his career: 200,000, far more than necessary, and a likely cause of the Parkinson's syndrome that might have begun taking its toll on him as early as the 1970s.
Ali's legacy of outspokenness lives on in the contemporary wave of athletes taking stands on political issues. Yet Ali, Eig observes, became a national hero only after Joe Frazier knocked him down in 1971, and he fought his way back to the championship; he became beloved only after we saw him, enfeebled by Parkinson's, shakily lighting the Olympic torch in Atlanta, in 1996. It's an ironic denouement to the epic story of the loudmouth kid from Louisville — or, perhaps, not really ironic at all.
"The most racist part of it is, we love Ali when he's harmless. When he's holding that torch and his hands are shaking and he's weak," says Eig. "That's when we love him, because he's no threat to us anymore? Well, that's messsed up."