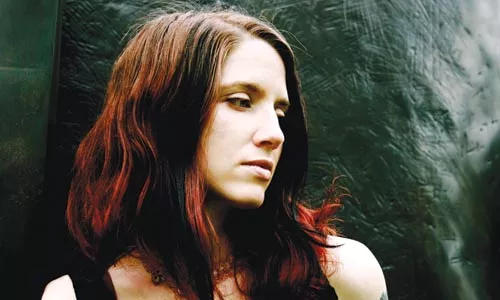 There's something slightly otherworldly about Jolie Holland. And it's not just the rhythmic swing and tonal lilt of her voice, and such lyrics as "Nobody likes a spook / Or so I've deduced / But I've loved some ghosts in my time." The recording of Holland's latest album, The Living and the Dead, was suffused with seemingly supernatural occurrences, she says, including "this near-psychic understanding" with producer Shahzad Ismaily, and two poltergeist events.
"The lights started going on and off during the song 'Corrido Por Buddy,' and they didn't do that for any other song," Holland says. "And it happened twice, in two different places, both during that song."
Coincidence or otherwise, all boded well for the recording of The Living and the Dead, which has emerged to great acclaim, heralded as a radical departure from Holland's first three solo albums. Some of the differences are mainly cosmetic: With a larger budget and more time to iron things out, the recording has more depth and more elaborate instrumentation. But there are also structural differences: Where past albums have featured numerous waltzes, more uptempo 4/4 rock tunes prevail, and only one song is in 3/4. But Holland is unimpressed with that talk.
"I love singing in 3/4, 6/8 or whatever, I think it's beautiful. But I started to feel like it was kind of a shtick," she says. "I don't like to keep repeating things." At the same time, "I don't really care whether it's different from my older stuff," she says. "Obviously it is different to an extent. I guess I'm just playing devil's advocate."
But that doesn't mean the old Jolie's gone. Her unmistakable vocals persist even on the new album's most straightforward songs, creating a tension between the easygoing rock rhythms and Holland's off-timed singing and warbling melodies. It's difficult at times to tell if she exists on a higher musical plane than most of us or is just plain crazy -- it could be both.
While the recording, especially on the earliest tracks, is much slicker than the Holland we're used to, it's scaled back at times, too. On the final track, "Enjoy Yourself," we hear vintage Holland: She giggles through half the track, recalling the one-take procedures of her first demo/album, Catalpa. And the song's structure is simple, no doubt due to the inspiration of Daniel Johnston; she met the outsider singer/songwriter at South By Southwest and became enamored with his work.
"I'm really interested in the way songs work," Holland notes, and particularly their structure. "I'll be thinking about a certain song form, or a particular rhythm, and maybe meditate on that or other elements of a song. But I never try to force it, I never get nerdy and say 'I'll write this kind of song now!' I just let it happen.
"I can meditate on a form for years, but writing songs is fast, out of the blue," she says. "I wrote 'Crush in the Ghetto' at the bus stop. I wrote 'Fox in Its Hole' in a hotel room in London while I was on tour."
While some of her songs are steeped in symbolism and representation, Holland doesn't present herself as a storytelling lyricist; she insists that her songs are based on personal experience. Asked about a particularly narrative tune from her last album (with the lyrics "I took my sister to the river and I came back alone/ And this sickness, this ennui, is settling in my bones / And my daddy is suspicious but I know just how he does / He won't find out about it 'til she's safe down in the mud"), she immediately replies, "Oh, that's all totally, painfully true."
After a pause, she backpedals slightly. "I mean, there are different layers of symbolism in it, I guess."
Either way, it sounds like the set-up to a good ghost story.
Jolie Holland with Herman Dune. 8 p.m. Sun., Nov. 9. Thunderbird Café, 4023 Butler St., Lawrenceville. $12 ($14 day of show). 21 and over. 412-682-0177 or www.thunderbirdcafe.net