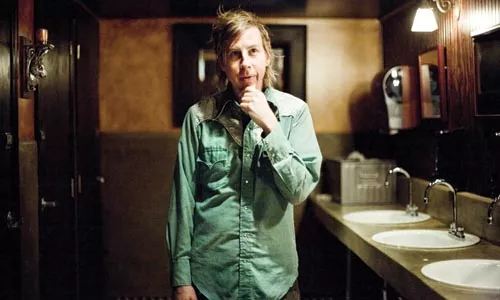 For all of the songs about people trapped in tense situations or clouded mental states -- and he's written many, spread over seven solo albums -- John Vanderslice couldn't sound any more pleasant and well adjusted. Chatting by cell phone as he and his bandmates begin his latest tour, the San Francisco musician's observations on his songwriting betray an imaginative composer rather than a guy who bears any mental connection to the paranoid office worker, co-dependent conspiracy theorist or Guantanamo guard he's portrayed on previous albums.
So removed is Vanderslice from his protagonists, he freely admits that their full perspectives don't always come across in the song -- an intentional lyrical ambiguity. "I've always admired that [approach] in other people's music," he says. "There's a reliance on these unreliable narrators. And that's very compelling, if you can just give enough information to have someone get drawn into a story."
Vanderslice combines these mini-novels with a compelling twist on pop-song structures that often pushes guitars to the side, substituting keyboards, bright harmonies and the occasional string instrument or horn. It's the reason Vanderslice's following -- just small enough to keep him below the radar -- remains fiercely devoted.
"D.I.A.L.O.," from his recently released album Romanian Names (Dead Oceans), sounds like a letter written by someone who has abandoned their family life for a career on the dark side. "Forget about my home / forget about D.I.A.L.O.," Vanderslice sings in the chorus. While those initials might mean something to the song's character, to Vanderslice, they're simply placeholders that fit the song's rhythm.
"I've probably gotten two- to three-dozen e-mails about that song, and I usually don't answer them," he says. "But a couple people have, of course, Googled it and there's something called the Defense Intelligence something-something Liaison Office. So people were convinced that [the song] had to do with some kind of heavy-duty political shit, which I think is really funny."
"Central Booking," the closing song on 2007's Emerald City, offered one of the few instances when reality inspired a Vanderslice song. It was born out of the immigration issues that kept Vanderslice apart from his French girlfriend (now wife) Isabelle. In fact, the complications surrounding her return to the United States -- which required him to travel to the State Department in France while on tour -- colored the whole album in tense ambiguity.
Compared to his last album, Romanian Names sounds a bit more relaxed, the tense edge traded in for dreamier arrangements. His nuptials didn't necessarily inspire the results, but Vanderslice says he approached the album differently than its predecessors, recording 24 songs (half of which wound up on the album) in one fell swoop. This way, he says, "you have so much stuff going on that you can't get really meticulous about [any of] it. I had charts on the wall and I had lyrics stuck up and mixed up, verses on this page and choruses and pre-choruses in a different room in my house."
The song "Sunken Union Boat" epitomizes his approach. "There's an awful lot of chords and an awful lot of melodic movement, but it really moves in and out of those sections very quickly," he explains. "And I wanted to brighten up everything. I wanted everything to be happy and super harmonious on the top end. There's a lot of optimism that you sense in those sounds and the lyrics are often countering that kind of sonic optimism."
Vanderslice's production approach also draws on some vintage techniques. His Tiny Telephone recording studio (used by Spoon and Death Cab for Cutie, among others) has a completely analog set-up. Also, he assembles his album like an LP: Each side has 18 minutes; the Side B opener ranks equal in importance to its Side A counterpoint; and a ballad closes out Side B.
"I've made every single record this way, and my friends have laughed at me," he says. "The funny thing is, this year and last year, vinyl is on an absolute tear. Last night, we had our CD-release show and we might as well have called it our vinyl-release show because we sold more vinyl than we did CDs." Beyond the rejuvenated popularity of records, he says it brings out the best in a musician. "Vinyl is somewhat limited to 20 minutes a side, and I think that helps focus people on making an album that you can listen to in one sitting."
John Vanderslice with The Tallest Man on Earth. 8 p.m. Tue., June 9. The Andy Warhol Museum, 117 Sandusky St., North Side. $12. 412-237-8300 or www.warhol.org