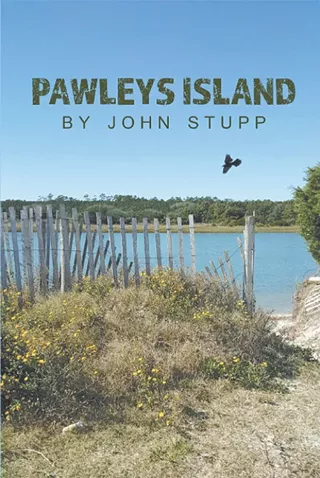 Geographically, Pawley's Island is located just off South Carolina's coast. In John Stupp's new collection Pawley's Island (Finishing Line Press), this location looms as both place and state of mind, where paradisiacal settings abound. One example comes in "Nobody Expects," where readers will find "a poem like this / in the mud / first thing / in the morning / covered with crabs / and croakers." It's a book that brims with playfulness while reveling in fishing's man-versus-nature conflicts.
Stupp lives in Sewickley and works as a paralegal Downtown. His observations about commuting on the 16A get the poetic treatment in work like "Inbound," "Angels" and "How They Brought the Good News from Ambridge to Pittsburgh." In the latter, a drunk couple nips wine, with one saying to the other, "put your tongue in me / and we will sing / together." Here, the tone feels like intimate, studied glances into humanity.
In his author bio, Stupp offers that when he's not writing, he "can be found fishing." It's these angling poems that comprise most of the collection's second half, crowding out more diverse topics. A favorite that meditates on nature's meteorological power is the unfortunately timely yet imagistic "After a Hurricane." Stupp writes, "A black / cloud of wind / sucked waves out / like a leach / it was low tide / all the way / to the horizon /…you couldn't find water / yet the ocean / was there / sleeping it off / dreaming / beneath the surface." With moments of personification and an eye toward naturalism, it's a standout.
While fishing verse might not be everyone's style, Stupp also writes humorously about his dog, Buster, and, more importantly, his time as a musician. An accomplished jazz guitarist and aficionado, he writes reverently of the genre in "New Rhumba," "Listening to Earl Hines" and "Relaxing at Camarillo." He even manages to combine fishing and jazz in "No Luck," with elusive "bluefish / darting / in the waves / like Dizzy / and Bird / on Salt Peanuts." It's a slick juxtaposition.
Addiction's place in jazz gets tragic portrayal in "Bill Evans at the Smiling Dog Saloon," where Stupp writes, "between sets / he worked a pay phone / at the bar / fingers nonstop / like a safe cracker / dialing for junk before dawn / wings sweaty / like a sparrow at an empty feeder." The short lines, used here and throughout the delightful Pawley's Island, lets readers nibble on Stupp's stanzas before getting hooked by the book's plainspokenness and figurative moments.