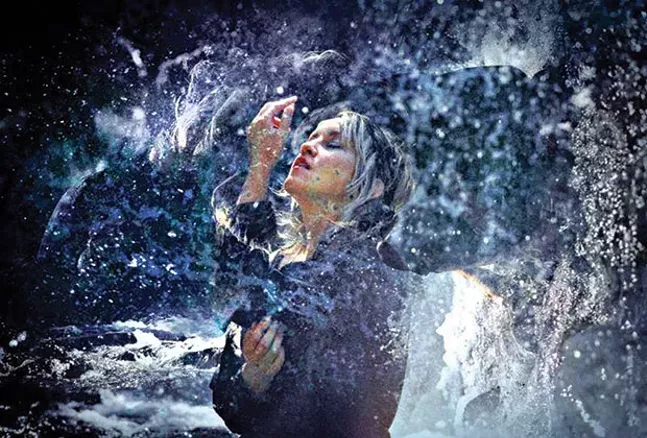 Johanna Warren was in the forest more than a year ago, meditating in the trees, when she says she experienced a strong impression from the nature surrounding her. "The forest was speaking to me and asking me to do something," Warren says. "I could just feel the plants asking me, telling me, 'Let's collab!'"
That impression led to action. Warren is currently on the road, performing music across the country and using her shows as a platform for local activists, herbalists and plant-medicine experts. During her performance, these featured educators are given space to hand out information and zines, vend their products, and teach the audience about their work.
In under a month, she's booked 70 shows with this educational component — an impressive feat for an independent musician.
"I feel like I'm really showing up for my end of the pact I made with the forest that day," says Warren in a phone interview with City Paper. "Everywhere I've gone, there are beautiful humans devoting their lives to plant intelligence."
In addition to performing her ethereal, intimate music, Warren is also a Reiki healer. Reiki is a type of healing focused around the channeling of energy through touch to activate natural healing processes.
"From a young age, I was drawn to magic and witchcraft," says Warren. "I came to be socialized to think that wasn't acceptable, so I lost that connection to it."
But when Warren turned 22, she was in a severe car crash. During the crash, she says she felt the presence of her friend, who had died a year prior, intervening to save her. "I had the unshakeable experience of being saved by my friend who passed away. It was a psycho-spiritual awakening," explains Warren. "It shook me to the core, and it was a domino that led to an intense cascade of events, [and] invited new people into my field. It felt like being transported to a dimension where magic was real again."
Around the time of the accident, Warren was also growing disturbed by all the prescription medicines she had been taking, and began to substitute natural replacements for these medications. "It led me to such an excited and empowered place. We have so many options for healing, and most are in our backyard," says Warren.
Warren begins each set with a grounding meditation exercise to help show-goers be present in their bodies.
"When the audience is connected and feeling it with you, it makes all the energy you're pouring out resonate and return to you, like a feedback loop of love," Warren says.