The past year has seen dozens of noteworthy local releases, from newcomers to veterans, from low-budget self-released CDs to major-label monsters. The following sample should spark some ideas for music-lovers on your list. Buy direct from the artists, and you might get a stocking-stuffer thrown in -- stickers and patches, bottle-openers, even a toothbrush. Or you can try these independent record stores: Paul's CDs (4526 Liberty Ave., Bloomfield, 412-621-3256); Wicked Discs (406 S. Craig St., Oakland, 412-682-5007); Dave's Music Mine (1201 E. Carson St., South Side, 412-488-8800); 720 Records (2136 Murray Ave., Squirrel Hill, 412-421-6485); Record Village (5519 Walnut St., Shadyside, 412-682-1984); Eide's Entertainment (1121 Penn Ave., Downtown, 412-261-0900); and Stedeford's Records (417 E. Ohio St., North Side, 412-321-8333).
Modey Lemon
Season of Sweets
Birdman
It's been awhile since we've heard from underground faves Modey Lemon, so this slab of heavy psychedelic garage rock was a pleasant surprise. "It Made You Dumb" achieves the kind of sing-along triumph lesser local bands are always questing after, but seldom deliver. Fuzztastic.
Emily Pinkerton
Valparaíso
(self-released)
A singer-songwriter and ethnomusicologist, Pinkerton blends old-time Americana and Chilean canto a lo poeta, performing on fiddle, banjo, guitar and Latin American instruments. An understated and moving bridge between traditions a hemisphere apart.
Punchline
Just Say Yes
Modern Short Stories
The long-running local favorites expand beyond their pop-punk roots with Just Say Yes, tapping into a classic pop sensibility and ranging from piano tunes to stormy breakup rockers, and New Wave irony to ballads. The slickest pop record to come out of Pittsburgh this year.
Cellofourte
Combustion
(self-released)
This album of original instrumental compositions by the classically trained quartet is a showcase for the dynamic and emotional range of the cello: from aggressive riffs to haunting melancholy, percussive passages to lyrical melodies. File under "rock."
Discuss
Aeration Swells
(self-released)
Over the electronic duo's sweeping and contemplative synths, downtempo rhythms gradually accumulate alongside bursts of guitar, trumpet, vocals and other sliced-up sounds. Welcoming and accessible, Aeration Swells favors musicality and emotion over gee-whiz knob-twiddling.
Triggers
Smoke Show
(self-released)
Triggers teamed up with producer John Hiler for their debut full-length, resulting in newfound ballsiness. You'll find nods to post-punk classics, and an insistence on catchy hooks and rhythms that give this foot-tapper of an album a consistently nervy, twitching groove.
Formula412
The Difference
(self-released)
This long-awaited debut -- over two years in the making -- from the local hip-hop supergroup blends the band's trademark live instrumentation with emcee Masai Turner's hard-edged delivery. Guests on the new album include Black Sun, Davu, Sonji and Chen Lo.
Takeover UK
It's All Happening
Rykodisc
We've known them a while, but this EP on the heavy-hitting Rykodisc label is the rest of the world's introduction to Takeover UK. Over five hook-laden songs, the band welds its snarling twin vocals to gravelly Clash guitars and Beatlesque melodies, with touches of '60s-pop production.
Anti-Flag
Bright Lights of America
RCA
The second major-label release from Pittsburgh's veteran ambassadors of political punk finds the band teamed up with legendary producer Tony Visconti, and with an array of ornate instrumentation that goes way beyond their roots as a rough-and-tumble DIY band.
Yves Jean
for Love and Desperation
(self-released)
Jean's elaborate, polished release combines mainstream pop-rock vocals and hooks with his rippling bass lines and African and Caribbean rhythms. It's sometimes reminiscent of Paul Simon and Dave Matthews, yet the personal songs are undeniably Jean's own.
Daryl Leroi Fleming
The Blockhouse & Bloodhound Sessions
Sort Of Records
The versatile Daryl Fleming mines a pleasantly rustic experimental folk vein here -- yet it's also one of the year's oddball records. Fleming bemusedly fingerpicks and croons his way around third-party candidates, Rousseau and the decline of the American Empire. For the skeptical poli-sci major on your list.
Don Caballero
Punkgasm
Relapse
For the first time in Don Cab's long career, the band augments its prodigious instrumental chops with vocals. Long-time fans will savor the trademark shifts in time signatures and dynamics, along with the elaborate guitar passages, but the atmospheric ballads are a startlingly fresh development.
Ennui
The Myth in Which We Live
(self-released)
The dominant mood is, well, ennui, but the trio coaxes a multitude of musical flavors and textures from washed-out layers of keyboard and guitar, elaborate drum programming and high, heavily treated vocals. Epic, ambitious, and atmospheric.
Good Night, States
Short Films on Self Control
(self-released)
If you're a regular WYEP listener, you've likely caught this band either on-air or opening the station's summer music fest. The group's finely wrought debut, a long-distance collaboration, blends rootsy elements with anthemic hooks, intimate Wilco-esque atmospherics and rousing rock.
Joy Ike
Good Morning
(self-released)
Joy Ike and her piano were everywhere this summer -- especially at community events, where her slick musicianship and earnest songs, inspired by "friends, enemies, family, injustice, loneliness, community and the pursuit of happiness," seemed a perfect fit. Good Morning should help start the day on that positive, thoughtful tip.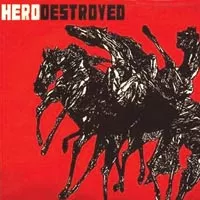 Hero Destroyed
Hero Destroyed
Relapse
This unrelenting blast of modern-day thrash is Pittsburgh's most prominent metal/hardcore album this year -- and with help from the Relapse label, a lot of people are getting to hear it. With titles like "Cause for Cancer" and "Head In the Noose," it's best left to the metalhead or surly teen on your list.