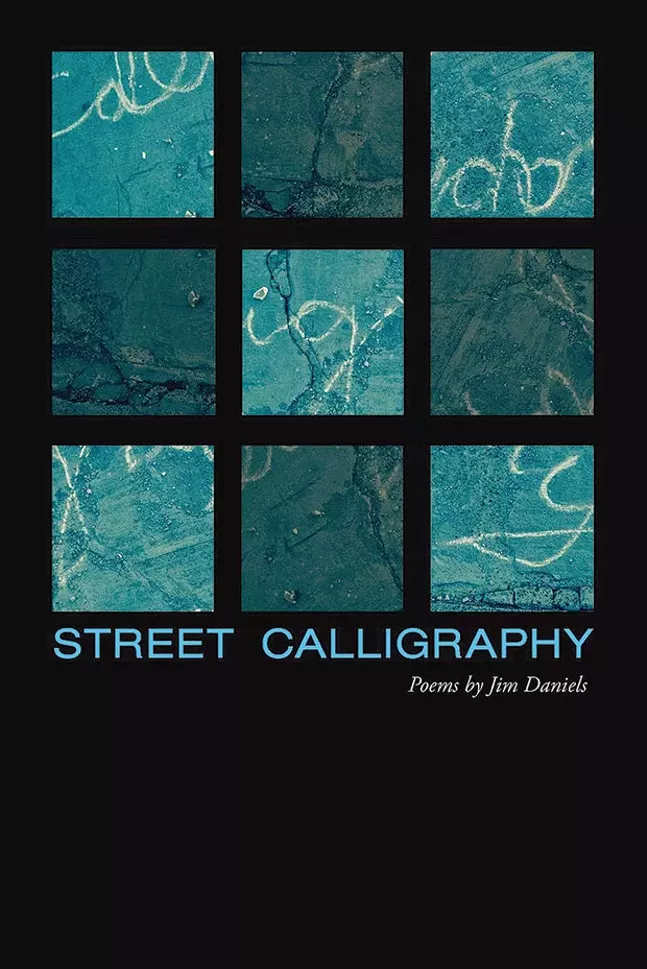 Jim Daniels continues to be a poet of places and people. Like previous work, his latest collection, Street Calligraphy (Steel Toe Books, 90 pp., $12), often centers on the Detroit of his youth, the speaker's parents leading the way among the cast of characters. It's a recipe for success, never feeling formulaic. And with many poems backdropped by a 1970s blue-collar upbringing, it adds a sense of Rust Belt nostalgia, raw and unsentimental.
Daniels, a longtime Carnegie Mellon professor and Oakland resident, is prolific, with 17 poetry books to his credit, as well as screenplays and stories. He consistently treads over familiar but rich themes, rendering the specific into something universal and approachable. With each new collection, he retains a strong voice while refining the view of his past, finding new angles to consider formative moments.
A favorite, "Up on Blocks," concerns a neighbor, Danny, who died in Vietnam, and "his car, an absurdly red / Fury, up on blocks on our pocked street / to work on when he got home / but he never did." Danny's father, left with the aftermath of loss, is characterized as having "a cough that could maul a lion / but he wouldn't stop smoking." Danny's death gets amplified when "some asshole torched [the car] / a whoosh heard down the block / and his father trembled and collapsed / in the terrible light of the flames." The palpable emotions here find their counterweight in a speaker looking for separation, "to put on as many miles as I could."
In "The Macular Degeneration Boogie," Daniels illuminates the struggles of a nearly sightless mother, "bad magician, / mad scientist, limping dancer, / blind juggler in the kitchen." With her culinary skills diminishing, the "father lurks / with the fire-extinguisher. / She cuts him a piece of cake / in the shape of the state of / Oklahoma? West Virginia? / He shuts up and eats. / He tells her it is good. / She made him sick last week." Throughout this work and others, Daniels weaves life's cruel ironies into something movingly funny.
Street Calligraphy's poems focusing on Daniels' children and domestic life feel less resonant than those concerning Daniels' younger self. But he manages to combine the two in "The Lincoln Death Chair," about a long-ago field trip gone bad with smuggled rum. In a reversal of roles, he now worries about his ninth-grade son, saying "the idea of him drinking / sprays buckshot into my chest."