The 18th annual JFilm, formerly known as the Pittsburgh Jewish-Israeli Film Festival, opens its 19-day run on Thu., March 24, with the Pittsburgh premiere of the British comedy The Infidel.
The festival also offers 19 other films from Israel and around the world representing Jewish experiences, from the comic and the dramatic to the inspirational, as presented through recent narrative features and documentaries.
Films screen through April 11, at nine area theaters and venues including SouthSide Works Cinema; McConomy Auditorium, Carnegie Mellon University; Cranberry 8; Carmike 15, Westmoreland Mall; Frick Fine Arts, University of Pittsburgh; Point Park University, Downtown; Rodef Shalom, Oakland; Seton Hill University, Greensburg; and the Galleria, South Hills. Tickets are $9 for adults, $8 for seniors and students, and $5 for kids under 18. For tickets and more information, call 412-992-5203 or visit www.JfilmPgh.org.
Below are selected features screening the first week.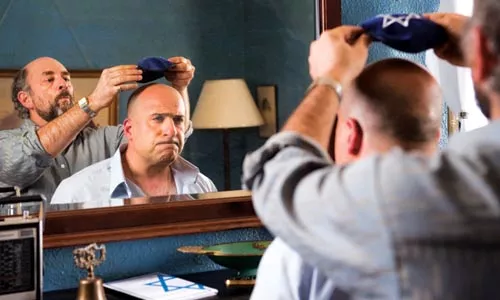 THE INFIDEL. A Muslim Londoner, Mahmud (Omid Djalili), with rather lazy religious convictions, gets his comfortable existence seriously upended. First, he learns that a controversial fundamentalist imam will be joining his family via marriage; then, he discovers his birth parents were Polish Jews. Josh Appignanesi's satirical comedy takes plenty of pokes at both cultures, as Mahmud tries to be a better Muslim and Jew, while keeping his heritage a secret from his family. Djalili is a comic delight; the dialogue is dry and snarky; and the story is affirming without being sappy or preachy. $50 (includes opening-night reception). 7 p.m. Thu., March 24. SouthSide Works (Al Hoff)
CLIENT NINE: THE RISE AND FALL OF ELIOT SPITZER. A shining star in political and legal circles, Spitzer, they said, might have been the first Jewish president. But Spitzer, then governor of New York, resigned in 2008, disgraced by his association with a call-girl ring. This compelling and revelatory documentary from Alex Gibney (Enron) tells a more complete story -- of Spitzer; his targets in high finance; his political foes; and the escort service. The film strongly suggests that if Spitzer wasn't the victim of dirty tricks, then his takedown was likely politically motivated. (Spitzer, whom Gibney interviews, refuses to bite, saying that regardless of the ugly partisan climate, he committed the acts.) And surely all viewers will be left wondering how history might have played out had the "Sheriff of Wall Street" not been unseated while a disastrous economic meltdown was shaping up in those very canyons. 8:30 p.m. Sat., March 26. SouthSide Works (AH)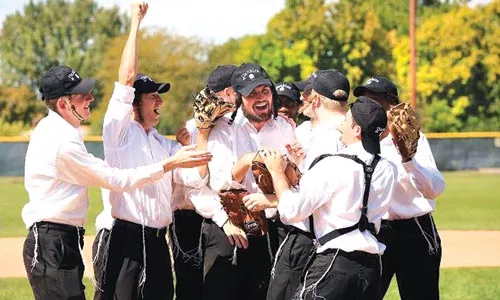 THE YANKLES. It's The Bad New Bears (with a splash of Kenny Powers), but set in a Los Angeles-area yeshiva. The rabbi approves a baseball team, and the bumbling religious scholars get a washed-up major-leaguer for a coach. The amiable comedy from David R. Brooks plays out as expected -- before the Big Game, everybody becomes a better person and a better player -- but this crowd-pleaser gets in some laughs, musical numbers and life lessons. 9 p.m. Sat., March 26, and 4 p.m. Sun., March 27. SouthSide Works (AH)
ANITA. In the aftermath of a 1994 terrorist bombing in Buenos Aires, Anita, a young woman with Down syndrome, is separated from her mother, on whom she relies. Marcos Carnevale's drama depicts Anita's journey as she learns to take care of herself and others; her progress includes both tender moments and harsh realities. Anita is portrayed by Alejandra Manzo, an actress with Down syndrome: Manzo shines in the role, drawing in viewers with her sincerity, tenacity and joy. Also notable is the fine work of Norma Aleandro, who plays Anita's mother. In Spanish, with subtitles. 7 p.m. Mon., March 28. Galleria (Lauren Daley)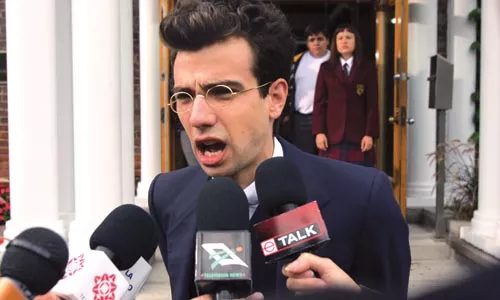 THE TROTSKY. Montreal high schooler Leon Bronstein (Jay Baruchel) for some unknown reason fervently believes he is the modern-day reincarnation of Leon Trotsky -- and thus devotes all his energy into copying his hero's life (at least until the ice pick). He mystifies his well-to-do Jewish family; organizes the student union into a protest movement; and even meets (per Trotsky's bio) an older woman named Alexandra. Baruchel gives it his all, and is a good physical match for a reedy revolutionary of yore. But writer-director Jacob Tierney's film runs mostly on one shaggy joke about Leon's delusion. It may be too smart for teens (unless you're as well read as Leon), and a shade too juvenile for adults. 7 p.m. Tue., March 29. SouthSide Works (AH)
PHOBIDILIA. Having become disenchanted with the world, twentysomething Regev holes up in his Tel Aviv apartment with everything he needs -- cable TV, Internet porn, food deliveries and a cat. His womb-like existence is disrupted only by his grandfather, a feisty Holocaust survivor, and a telemarketer -- a "three-dimensional girl" -- who slowly draws the reluctant Regev out. Doron and Yoav Paz' film is part romance, and part stylized critique of our increasingly isolated (and infantilized) existence, which the directors suggest can lead to madness. The directors are expected to attend the Thu., April 7, screening. In English, and Hebrew, with subtitles. 8 p.m. Wed., March 30 (McConomy), and 7 p.m. Thu., April 7 (Point Park) (AH)
A FILM UNFINISHED. In 1942, Nazi propagandists set out to make a film showing the opulence of life in the Warsaw ghetto, with actors portraying indulgent Jewish families living well. They never completed it, and in Unfinished, Yael Hersonski, an Israeli filmmaker, looks at the four reels of detritus they left behind. But, as Hersonski says, the footage is a gift, and "from the frenzy of propaganda, the images alone remain, concealing many layers of reality." Using all of the old film -- some of it showing the horrors of ghetto life -- along with readings from diaries and trial testimony, she reconstructs life in "a holding pen before the final destination." Hersonski's austere film once again documents the unimaginable, and she asks without asking what kind of people could perpetrate such a thing. In English, and various languages, with subtitles. 7 p.m. Thu., March 31. Seton Hill (Harry Kloman)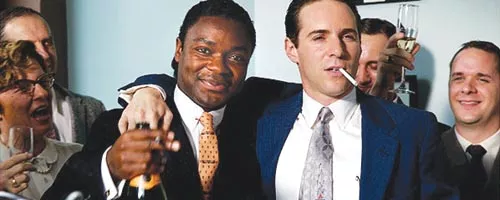 WHO DO YOU LOVE. Jerry Zaks' entertaining film tells (some of) the backstory of Chicago's Chess Records ("the house that Muddy Waters built") primarily through the lives of the two Jewish immigrant brothers who founded it. Leonard Chess is the go-getter, brashly moving from the family junkyard to promoting black musicians through a nightclub and record label. He's got the juice, but it's Willie Dixon, Waters and others who supply the lucrative blues. The bio-pic takes plenty of liberties -- frankly, rock 'n' roll history is never very fact-based -- but it at least acknowledges that the business was ugly, frequently exploitive and fraught with personal pitfalls. 7 p.m. Thu., March 31. SouthSide Works (AH)