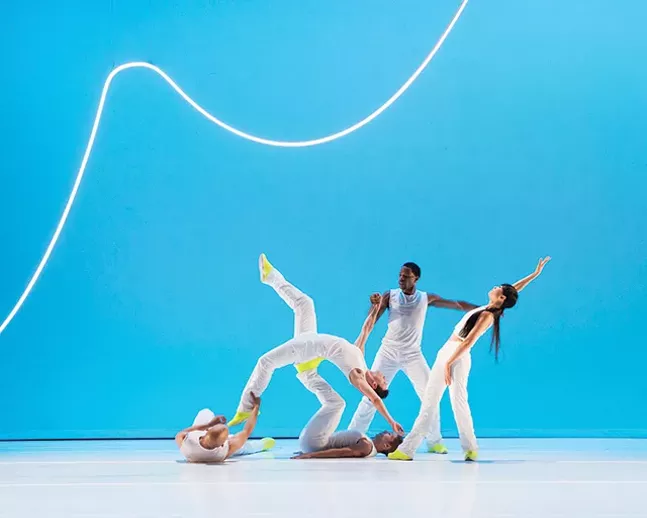 Awareness of the dearth of female choreographers in dance (especially ballet) has become more widespread in recent years. Dance companies and presenters have lined up to showcase programming exhibiting more inclusion on that front and celebrating female dance makers.
For veteran choreographer Jessica Lang, this current climate of female empowerment represents a bit of a double-edged sword. Lang says that in her eyes, the lack of opportunities for female choreographers has been a problem for a long time, but the sudden rush by dance organizations to create all-female choreographer programs has in some ways exploited the issue.
"It is slightly insulting to the female choreographers that have been working all along," says Lang. And while she is all for the wider recognition of the issue, she says "If you like my work, I hope you select it because the work is good and not because I am a woman."
Now that storied career — from Julliard to performing with Twyla Tharp's company THARP! to forming her own company, Jessica Lang Dance, in 2011 — is shifting focus. Lang's company performance at Byham Theater on Jan. 26 as part of the Dance Council season will be its last in Pittsburgh (the company officially closes on April 30). Lang has opted for a change in her career, giving up running her full-time dance company to explore other opportunities that focus solely on the creative process.
"It was just time," says Lang. "We have been a strong and positive organization for seven years, and I am proud of what we have achieved. Much like a successful television show that winds itself down, its ending might disappoint fans, but the show exits in a way that is satisfying."
Lang says what she will miss most about the company is the relationships she has formed with her dancers over the years. Local audiences will get to experience that bond the company has one last time in a repertory program of some of the Bessie Award-winning choreographer's most popular dance works.
The company will perform "Lyric Pieces" (2012), a 22-minute work for eight dancers to music by Edvard Grieg and will feature unique accordion-like set pieces; "Glow" (2017), a ten-minute piece for five dancers to music by Owen Clayton Condon and Ivan Trevino; and 2006's solo "The Calling" (excerpt from Splendid Isolation II). "The Calling" is perhaps Lang's most recognizable work because of the stunning oversized white gown the performer wears.
Also on the program will be "Aria I" (2013), a six-minute trio danced to music by George Frideric Handel; "Solo Bach" (2008), a three-minute virtuosic male solo to music by Johann Sebastian Bach; and 2018's "This Thing Called Love," a 22-minute celebratory romp for nine dancers to the music of Tony Bennett.