The joy the family shares in Antania's progress is offset by the legal risks.
Medical marijuana is illegal in Pennsylvania, and significant risk accompanies the family's decision to bring the medication across state lines and administer it to Antania.
Giving the child the medication could result in "a wide variety of felonies and misdemeanors," says Patrick Nightingale, a criminal defense attorney and executive director of Pittsburgh NORML, a local chapter of the National Organization for the Reform of Marijuana Laws. "Corruption of morals of minors or endangering welfare of children are potential charges she would face for using a Schedule 1 drug for medicinal purposes."
Additionally, Hawkins could face federal felony charges because "any transportation of controlled substances over state lines triggers federal jurisdiction," Nightingale explains.
While he doubts that local or federal law enforcement would specifically target the family, "Custody is not dependent on criminal charges or criminal activity," he says. Thus the combination of a Child Protective Services investigation and an unsympathetic judge could legally remove Antania and Lucciano from Hawkins' care.
Even a seemingly innocuous situation like a traffic stop could draw the attention of law enforcement.
"Those are some real risks you can't plan for or account for," Nightingale says. "The consequences would be the same as if there was an active investigation. There's a very real, genuine risk anyone considering medicinal cannabinoids in Pennsylvania faces because you need a reliable, steady supply to be administered on a regular routine basis."
The family faced a legal issue this year when Hawkins, who has been open regarding Antania's use of medical marijuana, faced truancy issues at her daughter's school.
For more than five years, Antania has participated in Pittsburgh Public Schools' Program for Students with Exceptionalities. Due to the severity of her daughter's seizure disorder, Hawkins makes daily assessments of Antania's health to determine whether she will attend school.
"If we wake her up out of a sleep, she has nonstop seizures. If she's up in the morning, she goes to school. Waking her up in the morning would put her into a status seizure that could last days," Hawkins explains. "There's no way I'm going to stress her body even more by sending her to school."
While the school system's policies remain strict, faculty members serving students with disabilities strive to make these policies work. "Parents can have up to three unexcused absences," explains David Lott, the school's principal. "Because we serve a clientele of medically fragile students, we work very closely with the parent. In most cases, the parent has given us permission to talk to doctors, and we will help the parent as much as possible and get those doctor excuses sent over to us."
"We've never had a problem, and this will be her sixth year in school," Hawkins says. "They're aware of [Antania] being sick, of us getting her to school when we get her to school. If she's sick, I'm not going to send her to school."
However, on April 29, Hawkins received a summons to appear before District Magistrate Jim Motznik for a truancy issue. The notice describes three unexcused absences that took place in September and October 2014, more than six months prior to the summons.
Shortly before the truancy summons was issued, Hawkins says Antania's social worker reported her to Child Protective Services and pushed for the truancy charge. She says Motznik quickly dismissed the charge and indicated he would do the same for his child if the situation called for it. Motznik told City Paper he could not talk about cases that he has presided over. The social worker was also approached by CP and was not given permission to speak about the case on the record.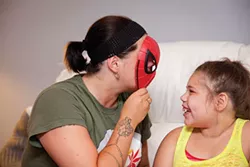 If the oil helps the Hawkins children, and the legal risks are so high in Pennsylvania, why not just move to Colorado?
The question underestimates the level of care Antania requires, and the comprehensive family unit that has evolved to meet her needs.
"A day in the life of being a caretaker for her requires way more than two or three people. You can't leave her by herself," Hawkins says.
Mitchell, Antania's grandmother, lives with Hawkins and her children and stays home to care for them while Hawkins works full time. Mitchell's parents live several houses down the street and offer support, especially with Lucciano. Despite the number of helpers, Hawkins describes the balancing act as "almost impossible."
More than the simple relocation of a nuclear family, a move to Colorado would require uprooting a delicately arranged system of support.
These limitations force the family to face the risks while waiting for Pennsylvania law to catch up with other parts of the country.
In Pennsylvania, a medical-marijuana bill (Senate Bill 3) that would treat a broad range of medical conditions passed the Senate in May with overwhelming support. However, once it entered the state House, the bill was placed in the House health committee, where many feared it would languish without a fair hearing. In the past couple of weeks, however, the bill has gotten new life. The Senate bill was moved to the House rules committee, chaired by state Rep. Dave Reed (R-Indiana County), who is more receptive to the bill than are other Republicans in leadership.
And last week, the committee announced the creation of a commission to help ensure the passage of a medical-marijuana bill.
"SB 3 is the framework," explains Rep. Ed Gainey, one of the members of the special commission. The creation of the commission reflects the priority given to the issue and the committee's desire to pass an effective bill.
"I want us to push something that other states want to follow," Gainey says.
Republican state Sen. Mike Folmer, one of the original sponsors of the Senate bill, says he wants to pass a bill that's "going to be broad enough to help as many Pennsylvanians as possible." Folmer says medical-marijuana laws in states like New York and New Jersey have so many restrictions that they are "basically nonfunctional."
Gainey believes a functional law is imminent. "We have the votes right now to pass the bill," he says.
A new law can't come soon enough for Hawkins. She has done her part to gain support by talking about Antania's personal struggles publicly and on social media. "Every day we make videos, take pictures," Hawkins says. Her advocacy represents just one voice in a collective of families across the state who have stepped forward to fight for medical cannabis.
"Patients and advocates formed this kind of alliance," she says. "There are thousands of us."
And while there is strength in numbers, Hawkins has to stand alone when deciding whether to take the legal risks of giving her child the medicine she needs. But in the end, she says, it's really no choice at all: "It comes down to either going to jail or a funeral."