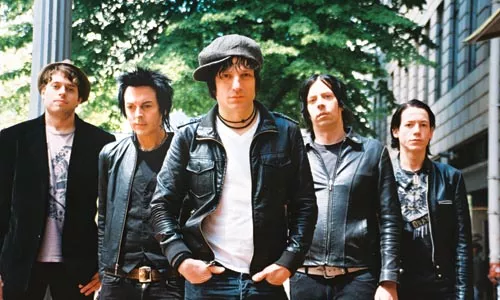 After thirty years of making music, Jesse Malin knows his way around America, and the way from most of its green rooms to the stage. A hardcore punk in the early '80s (with Heart Attack), Malin kicked around several years before forming glam-punks D Generation in '91; for the last decade or so he's pursued his solo muse. Malin's latest album, April's Love it to Life, is arguably his finest solo release, weaving elements from across his long career into what seems, finally, to be his definitive sound.
Just 42, despite his three-decade pedigree, Malin doesn't sit still long enough for moss to gather. As a solo artist, he's released five studio albums, including the covers record On Your Sleeve, plus a live disc and a couple of EPs. He's also cut a couple of unreleased albums with Ryan Adams and Johnny Tastemaker, the first as The Finger (We Are Fuck You), and the second, last September, as ATM. "We just do that for fun," Malin told Paste. "Some people get together and play golf. We don't play golf."
Malin's first two albums favored a rootsy Americana sound -- 2002's The Fine Art of Self-Destruction and 2004's The Heat -- the sound never quite fit Malin's scratchy, adenoidal vocals so well as it fit his producer and buddy Ryan Adams. His third release, 2007's Glitter in the Gutter, had more of a power-pop feel, and hinted at the rockier direction of the new album.
Malin describes Love it to Life as encapsulating his career. "When you listen to this record you can hear my whole journey since I was a twelve-year-old kid," he told U.K. blog Über Röck. "I think it's all in there, yet it doesn't sound like it's jumping all over the place. You can certainly hear more elements of D Generation."
He's not kidding -- D Generation bandmates Howie Pyro and Danny Sage play on several cuts; other guests include Adams and his wife, Mandy Moore; and Gaslight Anthem's Brian Fallon. His most band-oriented solo release, Malin credits it to "Jesse Malin and the St. Marks Social." (The touring version of the band features Malin's old hardcore buddy Todd Youth, of Agnostic Front and Murphy's Law).
Many of the songs balance the redemptive lyrical spirit of a Springsteen street paean against chugging, fist-in-the-air pop-punk -- a mix that's exultant, romantic and energetic in equal doses, with a hooky, anthemic beatnik swing. The prime example is "All The Way From Moscow," which sounds like Ted Leo with less mod and more London Calling.
Sonically, Love it to Life bristles with the vibrancy of a live show, with dry, raw sounds and vigor brought out by producer Ted Hutt (Flogging Molly, Gaslight Anthem). The songs, too, are more evocative of a live show -- most began as jams in basements and rehearsal rooms, rather than with Malin's acoustic.
Most guitarists will tell you that playing an acoustic is very different from playing an electric; by extension, so are songs written on them. While you can translate an acoustic-composed idea to an electric, there's something inimitable about riffs conceived while plugged in. It's that spirit that really lifts Love it to Life, and drives the album's most vibrant tracks, like the shout-along "Burn the Bridge," and "St. Mark's Sunset," in which Malin laments, "all my friends are dead or in business." This sometime wry, wistful tone -- this sense of perspective -- is another reason the album succeeds.
The album's first single, "Burning on the Bowery," chimes like the Clash, while Malin reflects on his roots and wonders about the "things we want and the wants we lost." On "Revelations," he assures, "everything's going to be alright, everything's going to be okay," and promises to "make a transformation while the candle still burns." While Malin's musical adventure has been one of constant transformations, on his latest album he's found something that really fits. Maybe he'll stick with the look for a while.
Jesse Malin & The St. Marks Social and Marah with Charlie Mars and Homeless Gospel Choir 7:50 p.m. Thu., Dec. 16 (doors at 7 p.m.). Club Café, 56-58 S. 12th St., South Side. $15. 412-431-4950 or www.clubcafelive.com