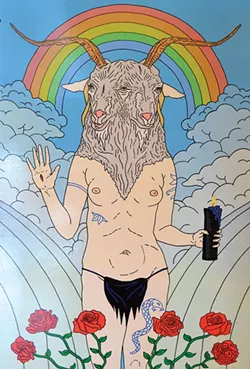 The Gallery 4 consistently produces some of the most intriguing exhibitions in the area, and the current joint show Stranded in the Underworld, featuring works by Jeremy Beightol and Brian Holderman, is no exception. Two artists with a healthy dose of shared qualities, balanced with healthy divergence, combine to present a big exhibition in a small space.
It's been several years since Beightol's last showing, Satan Is Real, a stellar joint exhibition with Jesse Best, at ModernFormations Gallery. In the time since, Beightol has expanded upon and complicated his already captivating vision and added layers upon layers of depth. The style and subject matter are similar — wizards and warlocks, saints and animals, nature and the supernatural, executed with precise lines and clarity — but the execution has evolved and deepened.
Previously working in predominantly flat hues and noon-bright light, he's now employing a lush richness, complex shading and subtle yet electrifying gradation, darkness and shadow, and suggestion, going from comic to Crowley by way of Black Sabbath, with a touch of Alphonse Mucha. Roses in full bloom, moons, stars, toadstools, madonnas, magical rabbits, providential eyes, beasts, babes and blood are all rendered with a vibrance that mystically seems to hold an antiquity. Beightol's new approach to color furthers his work with the implication of age, something sorcerous found in a dusty corner of a hidden antique shop. It's always been powerful, but now it's rich with wisdom.
Where Beightol is eerie and earthy, Holderman is space-age and cosmic. An aesthetic combining vintage vixens, golden-age superhero comics (and contemporary artists like Darwyn Cooke who emulate that signature style), pulp monster movies and atomic-era aliens mashes together with clean lines and vibrant color. Women in spacesuits battle slime creatures and tentacled googly-eyed goliaths, lounge in coffins with tar serpents, and imperiously guard the gates to hell. It's all over-the-top pop, and it's all good fun.
Stranded in the Underworld has an extended run at The Gallery 4. The works on the walls are well worth the visit.