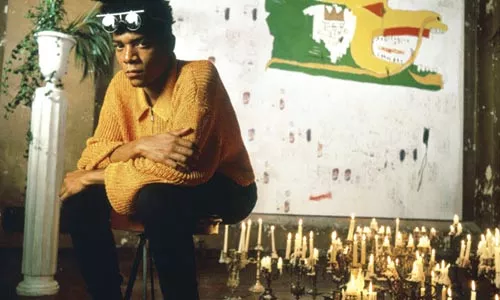 Judging from the title, you might expect this to be a glowing tribute to Jean-Michel Basquiat, who helped bring graffiti art into the gallery before dying at age 27. And you'd be right.
Tamra Davis begins her documentary in bohemian early-1980s Lower Manhattan, where Basquiat gravitated after a (largely unexplored) falling-out with his middle-class family. From there, the story follows a familiar arc: Young phenom makes it big, enjoys and is corrupted by success, then self-destructs as friends mourn what might have been. (Our own Andy Warhol plays a prominent role: The film cites him as a positive influence, though a series of artistic collaborations between the two began Basquiat's slide.)
None of the ex-girlfriends or arts professionals interviewed here disliked Basquiat, and thanks to previously unseen interview footage shot by Davis, you can sense his seductive charisma. Davis also does a good job of reckoning with art-world racism, and the double-edged nature of fame and commercial success ... dangers Basquiat seemed aware of, but fell into anyway.
Davis is less nuanced about the art itself. She amply illustrates Basquiat's talent -- filling the screen with more accomplished works -- while ignoring that much of his output was, well, uneven. (The film doesn't dwell on Basquiat's drug use any more than it has to, but it's not hard to deduce that he had to sell a lot of work to finance his habit.)
The film is bookended with verse from Langston Hughes -- "Nobody loves a genius child / Kill him and let his soul run wild." But that's not it, really. If anything, Basquiat's success came too easily, in a buzz-obsessed art scene that struggled to distinguish between his successes and failures. This eminently watchable biography sometimes makes the same mistake. Starts Fri., Sept. 10, through Thu., Sept. 16. Regent Square