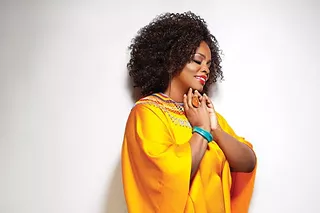 Jazz music has been closely connected to social change throughout its history, and this year's Pittsburgh JazzLive International Festival is no exception. The event, which runs June 20-22, coincides with the launch of ¡Hola Pittsburgh!, an initiative that promotes opportunities in health care, finance and technology to people in Puerto Rico who are considering a move to the U.S.
"ImaginePittsburgh.com and the Allegheny Conference identified the jazz festival as an event that they wanted to support for this year and use it as a vehicle for promoting what they would like Pittsburgh to be: open, diverse, world-class metropolitan," says Janis Burley Wilson, vice president of education and community engagement and director of jazz programs at the Pittsburgh Cultural Trust.
With the backing of those organizations, the festival was able to book the salsa band El Gran Combo de Puerto Rico. Last year, the group's 50th anniversary was noted by The New York Times in an article that ranked it in the company of the Rolling Stones, Beach Boys and Chieftains as influential groups that have reached the half-century mark. In that time, the group has sold over 150 million records.
This connection with ¡Hola Pittsburgh!, means the weekend "is not just a music festival," Wilson says. "It's an economic-development piece. But it's also [about] tourism, employment. It's promoting the whole region, not just here and not just in Puerto Rico, but internationally as someplace to be, and it's using the festival as the centerpiece for that."
Naturally, music is still key in the fourth year of the festival, and Wilson focused on bringing up-and-coming acts as well as more established ones. Vocalist Gregory Porter represented the new acts a few years ago, and now the Blue Note artist is a headliner, as is vocalist Dianne Reeves. Wilson is excited to present Brandee Younger, who plays jazz harp, and vocalist Nancy Harms. Most of the performances are free and take place outdoors, with evening jam sessions indoors. Trust Vinyl, a pop-up record store, will be located at 820 Liberty Ave. for the weekend.