When a person is the first to do something, that achievement tends to become part of their identity. For some people, that identity forces them into a box, one they can never get out of.
When Jarrell Brackett steps into the ring on May 25 he will become the city's first openly gay professional boxer. And when that moment comes, he has no intention of running from it.
"Listen!" he says excitedly, rising out of his chair during an interview with City Paper. "I want that. I really want to be that guy that every other guy is compared to. Be the first openly gay boxer? Great. I'm in! I'm proud of that. I want my community to be proud of that.
"I'd love nothing more than to walk to the ring and see members of my community, shit, I'd love to see the seats full of drag queens! I've worked in this community since I was 14. I love this community. They are my family and to see them come out and support me on this night would be so amazing."
Take one look at Brackett and you'll quickly realize that he's entering the right profession. From Muhammed Ali to Sugar Ray Leonard, boxing has always been a showman's paradise. The louder and more vibrant you are, the more likely you are to get fights that pay. And, if nothing else, Brackett is a showman.
From his blue faux-hawk to the fu-man-chu mustache that he's growing to go along with his nickname, "The Samurai," Brackett is creating an image. But those are just his outward, visual traits. Brackett is a man who loves to fight and is not afraid or embarrassed to do anything it takes to make the dream a reality. He's already faced some ups and downs that would have forced a less-driven soul to give it all up and get into the insurance business.
But Brackett fought hard to get to this point in his life and he's willing to fight even harder to make it last.
"I am a black, gay, left-handed male who went to private schools and grew up to be happy," Brackett says. "I was bred to make money and to do whatever it took to be a financially successful person and I resisted. God didn't create us to make money, he made us to serve him and to enjoy our lives to the fullest. That's what I'm doing.
"Fighting makes me happy and I'll do whatever I can to achieve that."
To understand why boxing is important to Brackett, you first have to look at the road he traveled to get to this point in his life.

Growing up around the Penn Hills area, Brackett wouldn't find out how important boxing was to him until he was in his 20s. He spent his adolescence in a two-parent home with two brothers, attending Christian schools. Brackett says he found it hard to form his own identity because he spent so much time around religious people and organizations, "being called faggot and told I was going to burn in hell."
"That caused me to have a real identity crisis," Brackett says. "The resistance around me was trying to tell me that I couldn't be who I felt I was and still have a relationship with God. Eventually, I realized that at the end of my life I'd rather be happy than accepted by a group that doesn't really like me anyway."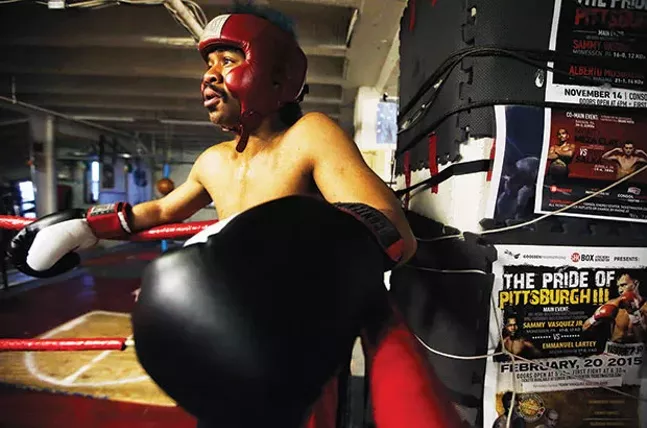 Brackett's faith in God is important to him, even though he readily agrees that it's hard to be gay when most churches don't accept him unconditionally. "That's why I plan to preach," he says. "There aren't many gay ministers out there because most gay people are afraid to talk about Jesus and God because we're taught that we don't deserve the same relationships that our straight counterparts are getting from God."
While nurturing, his childhood home wasn't the type of place he could learn about sexuality, so Brackett started looking for a place to learn. He heard about the youth empowerment project at Pittsburgh's PERSAD Center. It was there that he met Lyndsey Sickler, who worked with PERSAD's youth outreach programs. He learned not just about sexual identity, but sex in general. He learned about the importance of condoms to prevent spreading HIV and other STIs.
"Lyndsey was so important to me in so many ways," Brackett says. "I mean, I knew nothing. Eventually, I got a job there, teaching people about condoms and STIs. I learned that more important than sex is proper sexual health and sex education. It took, because here I am at age 29 and I'm still HIV negative and I've never had an STI."
While boxing wasn't a part of Brackett's childhood, he was introduced to the sweet science occasionally at an early age. At 12, he was living in Ireland and remembers getting into a fight with a local boy.

"They threw us in a makeshift ring and told us to fight. I lost the first two rounds but I won the third by knockout," Brackett says with a laugh. "I guess that was my first fight."
At age 16, he started working out at Jimmy Cvetic's Third Avenue Gym. After graduating from Penn Hills High School, Brackett went to West Chester University near Philadelphia in 2006. It was there that he got the urge to fight again. He heard about an underground fight club and went there with a few people to compete. "We found we liked hitting each other," Brackett says.
He started training and fighting as an amateur, winning some Golden Gloves events. In 2014, he was recruited to box at Olivet College in Michigan by Coach Loren Partlo. He arrived at the school on Aug. 26, 2014 at 4:20 a.m. after missing the first day of orientation because he stayed in Pittsburgh for one more fight. There, he had success both in the ring and outside of it.
By his junior year, he was a team captain, and, in the spring of 2016, the team won the United States Intercollegiate Boxing Association National Title held at Virginia Military Institute. The victory is an important one in Brackett's life. On the day he met CP for an interview, he was wearing the title belt and had done so on his trip from Mt. Oliver to Downtown. In addition to his boxing success, Brackett also became the president of Olivet's student government and took office last fall.
That, unfortunately is when things started going south. He was ordered to move off campus last September after a student worker at one of the university's dining halls said Brackett pushed her and hit her as he attempted to get into the establishment as it was closing. A university hearing was held, which Brackett calls a farce.
"I had six witnesses who were there who said it wasn't me, but they weren't allowed to testify because they were my friends. If allowed, one of them would have explained that the incident did happen but that I wasn't the one involved. They wanted me out and they got me out," Brackett says.
He wonders if part of the reason was a report that he drafted as student government president that detailed the stories of several women who said they were sexually assaulted. He says the university failed to act on those reports.
Either way, he was hundreds of miles from Pittsburgh and homeless. He was allowed to attend classes but could not remain on campus. It was a dark time.
"They wanted some reason to say that I was a bad kid and they got it," Brackett says. "I tried to expose corruption and I paid for it. I wasn't allowed on campus to train. For a month I lived in my car or I snuck into the basement of my frat and, yes, some nights I would proposition men online and slept at their homes."
He moved into an apartment in November and tried to stick it out, but he was tired of Michigan and decided to come home to Pittsburgh earlier this year to kickstart his professional career.
It's a Thursday night in April and cold wind stings this reporter's face as he stands in a dark alley of a well-known Pittsburgh neighborhood waiting for a sign. The sign is the soft glow of light from a previously closed door. I'm waved in, climb a couple flights of steps and find myself in the legendary Conn-Greb Boxing Club. The location is a secret unless you know somebody who knows somebody, but on this night, Brackett is sparring with well-known local fight veteran Rayco Saunders.

Local fight trainer and promoter Mike McSorley is watching from a distance, keeping time and making sure things stay civilized. Saunders, who appeared in the Jake Gyllenhal boxing movie Southpaw, is there to give Brackett live rounds. And although no one is trying to hurt anyone, it's still solidly aggressive. Off in the corner is Brackett's laptop recording just as he has recorded all of his sessions and fights. He puts them up on YouTube for all to see, even his opponents.
Brackett's not a speedy fighter or a mauler, per se, but he has enough of both of those skills to be dangerous in the ring. "He's not a one-punch knockout guy," McSorley says. "He's an extremely awkward fighter and I mean that in a good way. He switches stances in the middle of a fight, he comes at you from different angles. He stops guys by throwing a large volume of punches, some call them pesky punches.
"He has the ability to absolutely frustrate his opponents. I can't name you a fighter today who has this style. He's unique."
When McSorley was scheduling his May 25 pro boxing card at the North Side's Priory Grand Hall, he wanted to make Brackett's debut part of the show. He'll face another fighter making his pro debut, Brock Willis out of Clarksburg, W.Va.
Brackett will be just the second openly gay boxer in the country along with championship contender Orlando Cruz. McSorley says he wasn't sure what to expect from opponents or fight fans, but so far the sport has been welcoming. "The world is changing for the good," McSorley says. "It might have been a different story a decade ago, but people's opinions are evolving."
For his part, Willis says he was unsure why the promoters mentioned it to him in the first place. He wonders if it was to try and trick him into taking his opponent lightly. If that was the plan, they had the wrong Mountaineer.
"He's an experienced fighter," Willis says. "It did throw me a bit when they said he was openly gay. I wasn't sure if they were trying to bait me or just making sure I was alright with it. But to me it's not at all a relevant fact.
"Although, I definitely know that there's a stigma on folks from West Virginia that we're all narrow-minded redneck hillbillies who'd be bothered by this sort of thing. But that's not me. I think Jarrell and I will put on a good show."
At the end of the day, that's what Brackett wants. He's already proven himself to be a fighter and now he wants to show the world what kind of boxer he is. He loves the sport and will do anything to make sure he can afford to compete.

When asked Brackett what he would do to make this dream happen, he spoke with raw, unashamed honesty, although he did laugh a little because he couldn't believe he was ready to reveal something he'd kept secret, a second career as a legal sex worker.
"I work as an adult entertainer," Brackett says. "At a place like Club Pittsburgh [a local private men's club], actually, they hire me as both security and a performer! Can you believe it!"
Brackett laughs as he talks about his side work doing cam shows, live shows and hardcore adult scenes. In particular, he performs in a variety of videos for agonophilia fetishists — for those who get turned on by combat sports, more specifically combat sports that lead to sex.
"I'm not ashamed by this work. I love my life," Brackett says. "In order to pursue my boxing dreams, I need money to live on. At the end of the day, this will all be part of my story and my legacy. My goal is to enjoy every moment of this life."
And to just be happy.