When a person is the first to do something, that achievement tends to become part of their identity. For some people, that identity forces them into a box, one they can never get out of.
When Jarrell Brackett steps into the ring on May 25 he will become the city's first openly gay professional boxer. And when that moment comes, he has no intention of running from it.
"Listen!" he says excitedly, rising out of his chair during an interview with City Paper. "I want that. I really want to be that guy that every other guy is compared to. Be the first openly gay boxer? Great. I'm in! I'm proud of that. I want my community to be proud of that.
"I'd love nothing more than to walk to the ring and see members of my community, shit, I'd love to see the seats full of drag queens! I've worked in this community since I was 14. I love this community. They are my family and to see them come out and support me on this night would be so amazing."
Take one look at Brackett and you'll quickly realize that he's entering the right profession. From Muhammed Ali to Sugar Ray Leonard, boxing has always been a showman's paradise. The louder and more vibrant you are, the more likely you are to get fights that pay. And, if nothing else, Brackett is a showman.
From his blue faux-hawk to the fu-man-chu mustache that he's growing to go along with his nickname, "The Samurai," Brackett is creating an image. But those are just his outward, visual traits. Brackett is a man who loves to fight and is not afraid or embarrassed to do anything it takes to make the dream a reality. He's already faced some ups and downs that would have forced a less-driven soul to give it all up and get into the insurance business.
But Brackett fought hard to get to this point in his life and he's willing to fight even harder to make it last.
"I am a black, gay, left-handed male who went to private schools and grew up to be happy," Brackett says. "I was bred to make money and to do whatever it took to be a financially successful person and I resisted. God didn't create us to make money, he made us to serve him and to enjoy our lives to the fullest. That's what I'm doing.
"Fighting makes me happy and I'll do whatever I can to achieve that."
To understand why boxing is important to Brackett, you first have to look at the road he traveled to get to this point in his life.

Growing up around the Penn Hills area, Brackett wouldn't find out how important boxing was to him until he was in his 20s. He spent his adolescence in a two-parent home with two brothers, attending Christian schools. Brackett says he found it hard to form his own identity because he spent so much time around religious people and organizations, "being called faggot and told I was going to burn in hell."
"That caused me to have a real identity crisis," Brackett says. "The resistance around me was trying to tell me that I couldn't be who I felt I was and still have a relationship with God. Eventually, I realized that at the end of my life I'd rather be happy than accepted by a group that doesn't really like me anyway."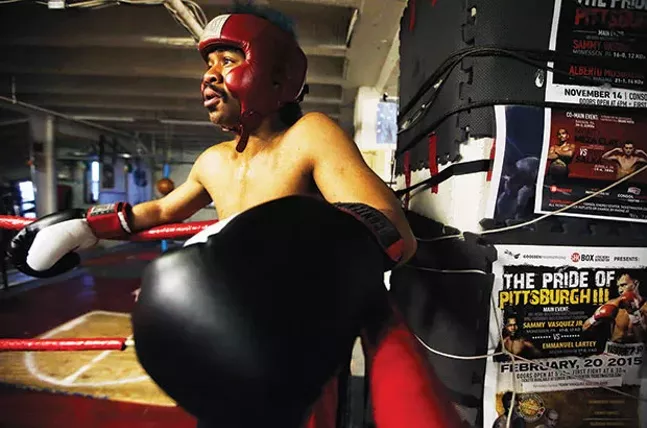 Brackett's faith in God is important to him, even though he readily agrees that it's hard to be gay when most churches don't accept him unconditionally. "That's why I plan to preach," he says. "There aren't many gay ministers out there because most gay people are afraid to talk about Jesus and God because we're taught that we don't deserve the same relationships that our straight counterparts are getting from God."
While nurturing, his childhood home wasn't the type of place he could learn about sexuality, so Brackett started looking for a place to learn. He heard about the youth empowerment project at Pittsburgh's PERSAD Center. It was there that he met Lyndsey Sickler, who worked with PERSAD's youth outreach programs. He learned not just about sexual identity, but sex in general. He learned about the importance of condoms to prevent spreading HIV and other STIs.
"Lyndsey was so important to me in so many ways," Brackett says. "I mean, I knew nothing. Eventually, I got a job there, teaching people about condoms and STIs. I learned that more important than sex is proper sexual health and sex education. It took, because here I am at age 29 and I'm still HIV negative and I've never had an STI."
While boxing wasn't a part of Brackett's childhood, he was introduced to the sweet science occasionally at an early age. At 12, he was living in Ireland and remembers getting into a fight with a local boy.

"They threw us in a makeshift ring and told us to fight. I lost the first two rounds but I won the third by knockout," Brackett says with a laugh. "I guess that was my first fight."
At age 16, he started working out at Jimmy Cvetic's Third Avenue Gym. After graduating from Penn Hills High School, Brackett went to West Chester University near Philadelphia in 2006. It was there that he got the urge to fight again. He heard about an underground fight club and went there with a few people to compete. "We found we liked hitting each other," Brackett says.
He started training and fighting as an amateur, winning some Golden Gloves events. In 2014, he was recruited to box at Olivet College in Michigan by Coach Loren Partlo. He arrived at the school on Aug. 26, 2014 at 4:20 a.m. after missing the first day of orientation because he stayed in Pittsburgh for one more fight. There, he had success both in the ring and outside of it.
By his junior year, he was a team captain, and, in the spring of 2016, the team won the United States Intercollegiate Boxing Association National Title held at Virginia Military Institute. The victory is an important one in Brackett's life. On the day he met CP for an interview, he was wearing the title belt and had done so on his trip from Mt. Oliver to Downtown. In addition to his boxing success, Brackett also became the president of Olivet's student government and took office last fall.