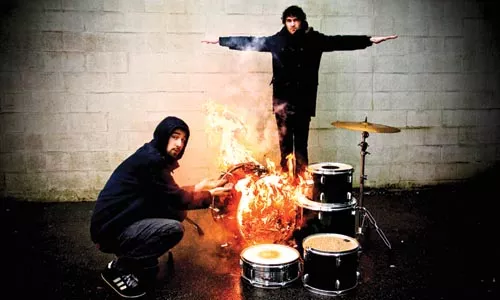 Noisy pop is back in vogue, and one of the finest acts to burst on the scene is Vancouver duo Japandroids. Over rhythms that thunder like a charging rhino, guitarist Brian King's amplifier billows thick clouds of hook-lined fuzz reminiscent of Hüsker Dü. Spiritual kin of recent no-fi buzz acts No Age and Wavves, while mining the manic lo-fi intensity of garage-rockers The Sonics, their songs are short, peppy and sweet, matched in volume by shout-along choruses about "French-kissing some French girls" and how they "used to dream, now we worry about dying."
The latter lyrics, from their underground hit "Young Hearts Spark Fire," seemed to tempt fate: King nearly died of a perforated ulcer the day after a 10-hour drive to Calgary. Fortunately, their hotel was near a hospital. "They took him to get X-rays, I went in the waiting room, and when I came back in to check on him, he was already being sent to surgery," recalls drummer David Prowse, from a tour stop in Illinois.
While the hospitalization forced the rescheduling of their first U.S. tour, which they're making up now, it's made them appreciate their situation even more. A year ago, when they finished recording their debut LP, Post-Nothing, they were considering breaking up. "We were definitely feeling like we kind of hit a wall," Prowse says. They'd put two hard years into the band and had released a pair of EPs themselves, but Vancouver's an overcrowded scene, and they didn't have the money or opportunity to tour.
They attracted the attention of Unfamiliar Records with an appearance at the Montreal Pop Fest. The boutique Montreal label only got the album out there, but afforded them a chance to tour. Rave reviews from critics brought more attention, and suddenly all their prior work is paying off, fueling their furious live show.
"We kind of have a sloppy sound but at the same time, we're really tight with each other," Prowse explains. They perform with Ramones-like intensity, allowing little time for patter between songs. "We're not letting anyone take a break," he says.
That's not the case for themselves, though. After King's scare, they're trying to appreciate their fortune, rather than worry about what comes next. As Prowse says, "It's like a new lease on life."
Japandroids with The Coathangers and Negative Negative. 8 p.m. Wed., Oct. 7. Garfield Artworks, 4931 Penn Ave., Garfield. All ages. 412-361-2262 or www.garfieldartworks.com