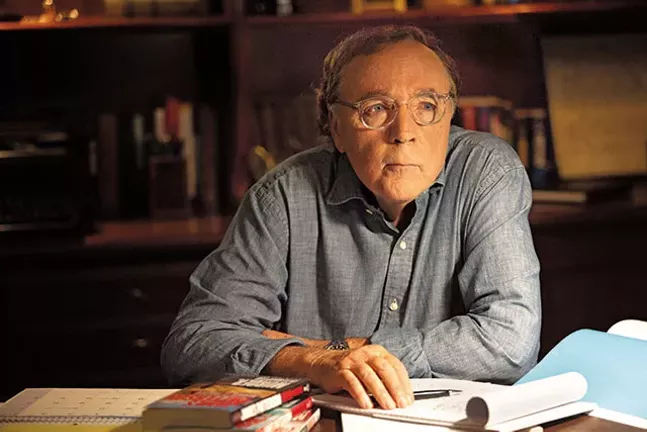 Growing up in Newburgh, N.Y., James Patterson wanted to follow the paths of Bob Cousy, Bob Pettit, Bill Russell, and the other basketball stars of the 1950s. He was going to devote himself to basketball. But his grandmother interceded.
"My grandmother told me, 'You can do what you want to do, you're a bright kid,'" Patterson says, noting he was only five feet 11 inches tall. "'But if you're not No. 1 in your class, I'm going to be pissed off at you.' She said, 'You're not going to play in the NBA, you can forget about that.' That was wise, because I had these delusions of grandeur."
To date, Patterson has sold more than 300 million copies of his books worldwide and has an estimated net worth of more than $750 million, according to Money Inc. Patterson is a tireless literacy advocate, having donated more than one million books to children's and veteran's organizations. His philanthropy includes the James Patterson Teacher Education Scholarships, which provide scholarships to students at more than 20 universities; donations of $1 million to independent bookstores in 2014; and $1.25 million in grants to K-12 classroom libraries through a partnership with Scholastic in 2019.
Patterson will appear Thu., June 27 at Carnegie Library Lecture Hall in Oakland as a guest of Pittsburgh Arts & Lectures' New & Noted series.
Patterson's literary empire includes the Alex Cross novels (notably Along Came a Spider and Kiss the Girls); golf-themed books (Miracle at St. Andrews); children's and young-adult titles including the Middle School series; and the BookShots series, romance stories of about 150 pages that sell for under $5.
His latest novel, Unsolved (Little, Brown), is a collaboration with mystery writer David Ellis, and Patterson's website lists four more books — also collaborations — scheduled to be released in 2019.
While he writes seven days a week (and reads three or four books every week), Patterson's ideas outpace the time he'd need to finish every book. "I can't do all these stories myself," Patterson says. "When I was doing the BookShots, that year [2017] I wrote two books by myself and 2,600 pages of outlines, if you can imagine that. And my outlines are always three or four drafts."
Patterson's passion for books and writing fuels his desire to promote children's literacy. While it's a basic building block of any education, reading, Patterson believes, can make children feel more comfortable "in their own skin" and recognize that there are others just like them.
But most importantly, Patterson believes children's literacy saves lives.
"Lots of lives," he says. "If kids aren't competent readers, how do they get through school? … I go to prisons, and it's primarily young males. A lot of them are big readers now because they have nothing else to do. Had they been readers in grade school and high school, a lot of them wouldn't be there because they would have had more options. So it's hugely important, especially kids who are reading below grade levels, that we get them to be competent readers."
That's why he makes a point of donating books to schools through the James Patterson and Scholastic Reading Club. What good are incentives to read if the schools themselves can't afford stocked libraries?
Patterson insists books have to be priorities, in both homes and in schools.
"We have to imagine that," he says. "And the newspapers in this country have to imagine it. I'm not blaming you or the newspapers in Pittsburgh, but newspapers have to write about these things.
"The presidential debates are going to start soon. Last time around, they did nine debates or something like that. And no one talked about education. Are they crazy? Education is the future of this country. The better the education, the more people are going to be better thinkers. They're going to be better everything, better spouses. It goes right across the board in terms of compassion and thinking things through."