A new exhibit at James Gallery in West End Village takes aim at standards of beauty and ugliness in the art world and beyond.
Pretty Ugly
, opening Fri., Sept. 20, was inspired by the work of local artist Tom Megalis, whose work made a strong impression on James Gallery director Paul Cicozi with his "energetic, expressive, and unpredictable style."
A graduate of the Carnegie Mellon University Fine Arts program, Megalis is a painter, sculptor, award-winning filmmaker, and animator who has done projects for Nickelodeon, MTV, Comedy Central, PBS, and Warner Brothers. He even created an animated short specifically for the exhibit, which can be seen below:
Megalis also illustrated
Mega Weird
, a published short story collection by his son, Nicholas Megalis.
Also on view are works by Ken Draim, Stacy Innerst, Laura Jean McLaughlin, Jay Nesbitt, Tom Sarver, and David Wallace, who previously showed at the James Gallery
Multiplicity exhibit
that closed at the end of June.
For the show, Cicozi says they wanted "committed and respected professional artists" whose work "possesses the spirit, emotion or rawness of Art Brut, Outsider or Folk art."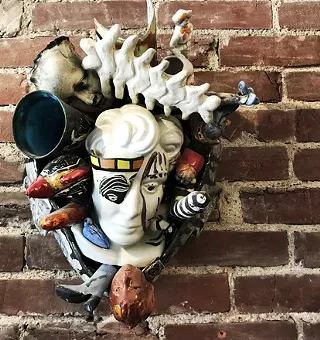 "In some instances, the work is humorous, in others austere or dark," says Cicozi.
With its diverse collection of pieces, which include a whimsical steampunk ship sculpture by Draim and
Mind Funk
, a disturbingly amorphous 3D wall-hanging by McLaughlin, the show seeks to explore the subjective and objective factors that drive what society considers beautiful.
"We hope the audience will appreciate the individual artists' take on the figure as subject, and their dynamically varied processes and use of material," says Cicozi.