click to enlarge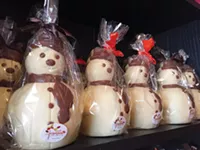 Squirrel Hill native Lissa Guttman lived elsewhere for a couple of decades, and underwent a career transformation, from computer scientist to chocolate expert, after a move to New York City in 2001. Now, she's back — and she's brought famed Jacques Torres chocolates here for the first time.
Torres, a renowned pastry chef who's no stranger to the Food Network, was starting his own chocolate factory in Dumbo, Brooklyn, when culinary-school grad Guttman was looking for a temporary food-service job soon after 9/11. "I knocked on his door," Guttman says, and what she walked into was a decade-long job in Torres' rapidly expanding operation.
Guttman returned to Pittsburgh last year, in part to bring her two kids closer to her family. While she'd moved on from Torres' company to work for Illy coffee, they'd kept in touch. They hatched a plan for a pop-up Jacques Torres shop, the first outside of New York City, in Shadyside. The Copeland Way shop, simply called Chocolate!, is a small operation that opened just before Christmas. Guttman serves hot chocolate (traditional or "wicked," with a kick of warm spices), and offers Illy coffee as well. She plans to stay there at least until Easter, when, she says, she'll formulate a new plan. For now, at least, anyone wandering a few feet off Walnut Street can find quite a treat.