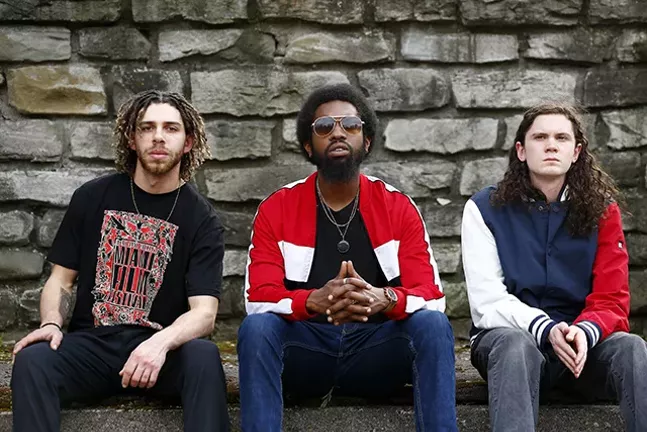 Jack Swing's newest EP was actually supposed to its debut full-length. But instead, founding member Isaiah Ross went with his gut and decided to pick out five tracks from LP and release them as a smaller package called Supermoon, out May 18.
"Listening to things, it didn't seem like [the LP] was 100 percent there yet," says Ross. "So, we decided to take all the songs that are of the same energy, focus on those, go back to the drawing board, and whip those into shape."
What unifies the songs on Supermoon is a strong, straightforward rock 'n' roll sensibility, something Ross feels is lacking in the current musical climate.
"Coming out of post-Nirvana, it's almost like there's an equation to rock music," says Ross. "It's lost what's made it special; it's lost its soul. Now we're putting all these things behind it to make it a money-making machine. We don't want that. We want to take the energy from the stuff from that past and bring that to the new age."
About a year ago, after cutting down the tracklist for the EP, they went into the studio to rework and record what is now Supermoon. For Jack Swing, studio time is sacred. The band works hard to make sure the time is taken seriously, and each member's contributions are heard.
"We try to be honest about energy because the energy that's in the room is the energy that ends up on the record," says Ross. "Going back and listening to it now, there's a lot of energy that I didn't anticipate ending up on the recording."
That energy found on Supermoon can be summed up in one word: fiery. "Monkey Around," the first song on the EP, is about both succumbing to bad habits and finding the strength to overcome them. The second track, "Take The Night," chronicles being lost in your troubles and telling a lover to go on without you, even if that's not what you want. "City Flows" discusses the woes of living in the city and modern-day society.
Both "Monkey Around" and "Take The Night" were recorded and released as singles in 2018, but the latter was re-recorded for Supermoon.
"We went into it before thinking we wanted different things out of the song," says Ross. "But now we understand it better. It's a mature version of the song and a truer version to ourselves as well. Trying to make the songs the truest version of themselves [lets] the emotion to come through."
The other three tracks have yet to be released, but those who have seen Jack Swing play in the past year may have already heard "Too Slow," "City Flow," and "Super."
"One of the best ways to test [the songs] out is to gauge an audience and play it in front of them," says Ross.
Feeding off the energy of a room during a performance and using that experience in the writing process has been Jack Swing's approach since 2016, though at the time, Ross was the only member of the band.
Before starting Jack Swing, Ross played in emo punk bands Driver and Skull Kid. He left to pursue music alone because Ross felt like he wasn't making the songs that he needed to be making. In December 2016, Cloud Cover became the first EP released under the Jack Swing moniker.
"Cloud Cover was an emotional album, and I was going through a lot," says Ross. "It was important for me to get those emotions out, and to do [Cloud Cover] so that that could lead to this."
Jack Swing is now comprised of Ross, Jonathan Lightfoot, Rowdy Kanarek, and most recently, Isaiah Small. Compared to Cloud Cover, Supermoon is heavier, groovier, and more polished.
"It's the first release we have that sounds like Jack Swing," says Ross. "A perfect combination of all of our musical interests. We're all Jack Swing at this point."