In 1953, Elvis Presley walked into Sun Studio in Memphis and paid $3.98 for studio time and a two-song record to give to his mother as a birthday present. The tapes made their way to studio owner Sam Phillips, who would produce Elvis' first crop of songs, and pop music gained its first icon — and its first legend about how an average schmoe can become an icon. 
But for today's generation of musicians, wandering into rock stardom doesn't require a place like Sun or a guy like Phillips. Take Justin Vernon, who recorded an album in a Wisconsin cabin on aging equipment, and soon after found himself performing on Letterman. Or Merrill Garbus, better known as tUnE-yArDs, who used a hand-held digital voice recorder to record her whimsical ukulele folk rock ... and is now a darling of music critics recording on a respected label.  
Given the trend toward lo-fi home recording and self-sufficiency, how did J. Vega entice 10 promising Pittsburgh bands in the past six months to come up to his home studio in Zelienople and pay about $250 a song to lay down some of their first recordings?
For one thing, like many in this economy, he has broadened his set of marketable skills. 
"I can help you fill in the gaps of a great live sound when you enter the studio," says Vega, a skinny, clean-cut guy. "I can also tell you where to press your CDs and where you can license your songs. I like to think of myself as an old-fashioned A&R man."
A native Pittsburgher who spent his teen years in Minnesota, Vega has racked up stints in bands and recording studios for the past two decades. "It all started when I was 12 or 13, and my parents gave me a four-track, which was as interesting to me as a guitar," he says. Though he has no formal training as a sound engineer, throughout the '90s he worked at a string of studios around Minneapolis, including the Prince-owned Paisley Park. He was later employed by a studio in Buffalo, N.Y. Along the way, Vega played in a few bands, the most successful of which, Pittsburgh-based power-pop act The Speeds, vaulted their songs onto MTV reality shows and Fox Sports programs. 
In 2008, when Vega found himself in Western Pennsylvania again, married to a real-estate agent (who is also a classically trained musician), the two bought a slice of domesticity: a 2,800-square-foot home on four acres in Zelienople. It's a few miles from the gaudy cluster of screaming chain stores on Route 19, back where the area's history emerges in the form of rustic old homes and hay bales resting in fields. 
The idea to record in the house came about a year ago. Vega plays guitar with the folk-y act Boca Chica, and says, "We really wanted to record an album. I looked at all the equipment I had and thought, 'Why don't we do it here?'"
A home renovation was needed anyway, to get rid of the cigarette-burnt carpet in the living room, so Vega decided to turn it into a "live room," with his den occupying the role of "control room" at what he has christened J Bird Studios.
Today, a bulky drum kit now sits at the center of the live room. Around it, microphones stand like stalks of bamboo. In the control room, guitars and stray keyboards lean against the walls, next to a few towers of mixing boards linked into a desktop computer that is the brains of the operation. 
As for how much money he's put into the studio, Vega simply says, "A lot." 
J Bird clients have included Big Snow Big Thaw, Sleep Experiments, The Armadillos and Horse or Cycle. Vega says he approaches bands more often than they seek him out: "I have a beer with them and see if they seem ready." 
Arlo Aldo, a self-described "alt-folk" trio, recently finished 10 songs at J Bird. "We were excited to bring in an outside influence," says guitarist/singer David Manchester. "There are things that don't need to be in the songs that he could edit out, and things that could be in the songs he could think of."
Recording sessions at J Bird, which are often stretched out over several weekends because of day jobs, can be both strenuous and tedious. Vega admits to being a "perfectionist who can spend three hours on a vocal loop." This is why he charges by the song, not the hour — and why some of the studio's most valuable attributes have nothing to do with recording equipment. There are couches to nap on, cats to play with and a liquor cabinet to raid.
"The other big draw is the hospitality," says Arlo drummer Brandon Forbes. "Every time we come through that door, [Vega's wife] Stephanie offers us cupcakes."
Watching Vega squint into a computer screen as the members of Arlo Aldo, one by one, lay down their parts for the song "Galileo," it's clear that the real appeal of J Bird is not the expensive equipment or even the cupcakes and booze; it's Vega himself. It's the comfort of turning a creative product over to someone who has taken the time to develop rapport with the creators. As keyboardist Ariel Nieland does her parts once again — this time on a toy piano Vega once saved from a Dumpster — she is free to focus solely on the small strange instrument. Vega, meanwhile, has been entrusted with the larger picture.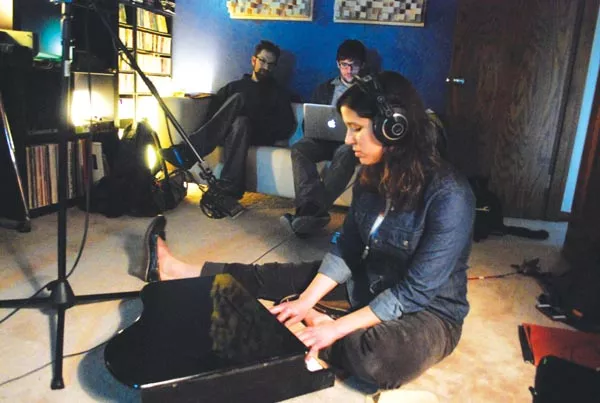 "I don't bring anyone in and just send them off with a CD," he says.
The neo-bluegrass band Big Snow Big Thaw recently recorded its self-titled album at J Bird, after releasing two EPs recorded in guitarist/singer/banjoist Jim Sabol's living room. The band will release the full-length Sat., March 31, with a show at Club Café. Sabol says he also valued Vega's role as an editor. "We could have pursued a lot of bad ideas if we hadn't gone in the studio with him," he says. "I can spend a lot of time working on a stray idea. He could tell almost immediately if it's going to work or not."
Vega admires albums like Talking Heads' Remain in Light, My Bloody Valentine's Loveless and Smashing Pumpkins' Siamese Dream — discs on which an intense studio approach turned a good band into a great one. 
"A lot of bands have gotten passable results on their own," he acknowledges. "But to take it to the next level, you're going to need a producer — well, not just a producer but a collaborator."