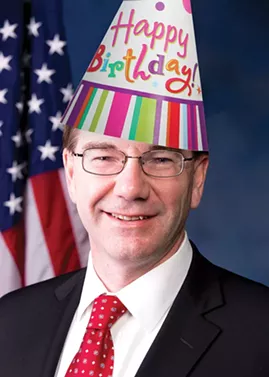 On April 25, Republican U.S. Congressman Keith Rothfus, whose gerrymandered District 12 stretches from southern Lawrence County to Johnstown, turned 55. Birthdays come but once a year and deserve to be recognized; especially the birthday of a fine American patriot and "man of the people" like Rothfus.
OK, yes, I'm kidding. Rothfus is a weak, ineffective legislator who rode the GOP wave into office and has done little since then except bitch about Obamacare. That's one of the main reasons he backed Donald Trump: He thought he'd finally be able to realize his dream of taking health care from people who need it. I'm sure he thought he'd be spending his birthday basking in the glow of repeal; after all, how could a political machine featuring a Republican House, Senate and president not get that done? But alas, that horrible piece of legislation didn't satisfy the Tea Party faction of the GOP and was never brought forward for a vote. Keith Rothfus is one of those far-right guys, by the way, but we don't know what he thought about Trumpcare because he stayed conveniently "undecided" right up until the point that he didn't have to make a decision.
For the first months of his third term, Rothfus has been busy trying to walk that fine line between kissing Donald Trump's ass and pretending that he's still a man of his convictions. Still, it's Rothfus' birthday, and he deserves a celebration. I went to the congressman's Facebook page to gather a collection of nice things that his constituents have written about him because everybody's nice to you on Facebook when it's your birthday. Alas, there were none. However, the show must go on, so instead of a birthday tribute, I guess this will be more of a roast.
On April 23, Rothfus touted Trump's contributions to strengthening the economy by making progress on "regulatory reform and rolling back harmful Obama-era regulations. The day President Trump signed legislation overturning one of President Obama's anti-coal rules, Corsa Coal in Somerset County announced it would open a new coal mine with at least 70 new middle-class jobs." His constituents obviously don't see this as progress:
"Harmful regulations? Most of us don't want to choke on air pollution and look at streams that are dead from mine acid. Perhaps you should concentrate on evicting the mad man that lives part time in the White House," wrote one constituent.
Rothfus has come under fire for most of his tenure for not meeting with the people he represents, and they still gently remind him of that fact. Wrote one poster: "Could you find time to meet with your constituents, or at the very least declare a position on health care, defense spending, or anything of substance? ... Better start looking for that lobbyist position."
On April 19, Rothfus posted a radio interview he did with conservative windbag Lars Larson about a trip Rothfus recently took to the Middle East. Not the best idea for an elected official with a reputation for not meeting with his own district.
One person responded, "Maybe during the next congressional recess you can travel with a delegation to the PA 12th District to meet with its residents? Would that be possible?"
"How about you fly back to PA and visit your district? Enough with the photo opportunities," posted another. "You're not even on a defense committee! Last I checked, the Committee on Financial Services doesn't require going overseas on a trip."
Not everyone was critical. One person even offered Rothfus some advice:
"Keith, I would suggest you refrain from posting," the author wrote. "Every time you post your nonsense you get seriously blasted. Would think you would get the message that you are not helping yourself."
Happy Birthday, Keith!