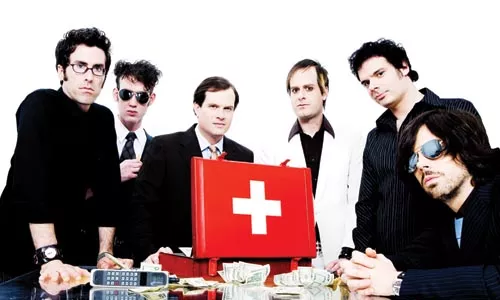 Anticipation fills the packed house as the crowd chants, "We want Dick! We want Dick!" As The Electric Six take the stage, frontman Dick Valentine launches into "It's Showtime," the opening track from the Detroit band's fourth album. That album, I Shall Exterminate Everything Around Me That Restricts Me From Being the Master, contains plenty of the irreverent lyrics, danceable tracks and hard-rocking songs fans have come to expect. "Get out on the floor / Do things to make them adore ya / Show 'em why you were born / And put a little mustard on it."
As the evening progresses, it's clear that most frontmen can't even compare to Dick; they could heap the mustard to the ceiling and it still wouldn't be enough. After all, Dick is charismatic, witty and able to do push-ups mid-song -- he takes it to a whole new level. And if you listen to the lyrics, you'll learn his secret: "Put a little mustard on that mustard."
What do you think of the rule: "You can't wear the band's shirt to the band's show"?
You can look at that two ways: One, maybe this person is a collector and he might be looking to buy something else to add to his collection, but then sometimes you think if he's already got a shirt, he's not going to buy a shirt. I look at everyone in the audience as a potential sale.
In that case, have you thought of adding some non-traditional items to your merch table?
We've always wanted to offer food items like hummus. Black-bean hummus, black-bean dip, black-bean chili con queso, some of these things. There are a lot of things that you wish you could do on the road, but the practicality of it tends to negate it.
People seem to like getting dressed up for your shows.
Yeah, all the time. We've had the Abe Lincolns, the Dance Commanders, the Freddie Mercurys.
With all the dancing going on at your shows, things can get pretty intense. Has anyone ever gotten hurt?
Not to the point that we've ever been taken to court. I remember some girl said she ended up getting impaled on a pole or something like that in Baltimore one time. Something about falling from a great height, and then there's a pole involved, and something about her skull, but I honestly don't remember. And like I said, we've yet to set foot in the Baltimore circuit court.
If someone did get hurt, perhaps some hummus would cheer them up.
Like I said, I enjoy making hummus. It's one of the things I'm good at making, and you can make it in bulk. The problem is keeping it when you're on the road. Our van certainly doesn't have a refrigerator. It's the practicality of it. I don't have time. I'm telling you, I don't have time to make hummus for everybody!
Electric Six with We Are the Fury and The Resistors. 8 p.m. Wed., Nov. 7 (doors at 7 p.m.). Mr. Small's Theatre, 400 Lincoln Ave., Millvale. $12. All ages. 412-821-4447 or www.mrsmalls.com