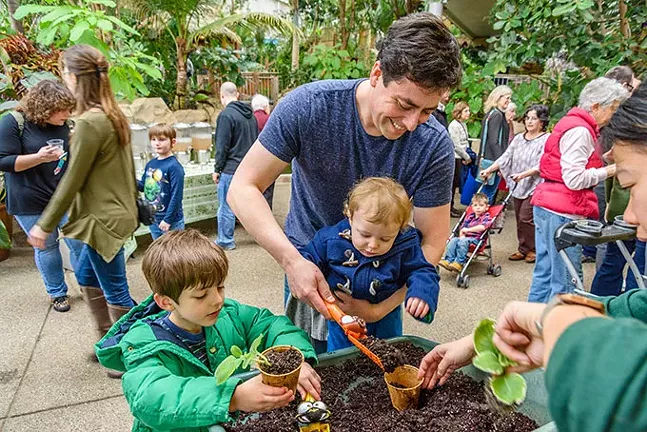 The pressure to party your hardest on New Year's Eve can really take the fun out of celebrating, especially when it comes to finding the perfect event to hang your (probably bedazzled) hat. And if it becomes a night to forget, all the money spent on new outfits, ride-shares, booze, food, and tickets will seem like a waste. And while the big First Night event Downtown offers a vast array of great entertainment, food, and more, not everyone is willing or able to brave the cold and crowds.


Pittsburgh City Paper wants to help you say farewell to 2019 in a way that suits your needs, whether it's at a decade-ending dance party, a kid-friendly gala, or a more laid-back bash.
Move it or lose it
Whether you're single or fully embracing cuffing season, you can dance into 2020 at a variety of events throughout the city. Belvederes Ultra-Dive goes all out with NYE 2020 Dance Party, a night featuring DJs from some of the venue's most popular regular dance parties (9 p.m.-2 a.m. 4016 Butler St., Lawrenceville. $10. belvederesultradive.com). Not far from Belvederes is fellow Lawrenceville haunt Cattivo, where revelers will find a New Year's Eve happening complete with the best music from the 2010s spun by DJ Arie Cole and free champagne toasts at midnight (9 p.m.-2 a.m. 146 44th St., Lawrenceville. $15. cattivopgh.com).
Brillobox breaks out the club jams with nyeteqno: A 2020 Vision, a multimedia event by Cutups and Keebs of Lazercrunk, and the local EDM promoter, Dissolv. A solid DJ lineup will spin a wide variety of bass, techno, and more all night long as lasers light up the dance floor (9 p.m.-2 a.m. 4104 Penn Ave., Bloomfield. $10/15 after 10 p.m. brilloboxpgh.com).


Need more options? Join DJs from the Darkness is Spreading events collective, Junction, and more for Black Zenith 2020 at 3577 Studios, an evening described on the Facebook event page as an "Afrofuturistic rave" full of dance music, art, and more dedicated to the Black and queer experience. (9 p.m.-2 a.m. 3577 Bigelow Blvd., Polish Hill. $15. facebook.com/darknessxspreading)


This is only a sampling of all the NYE dance parties taking place, but be warned — no matter which one you choose, be sure to arrive early before they hit capacity.
For the kids
The standard midnight-focused New Year's Eve party time often leaves out the little ones, but local venues have found the perfect alternative with Countdown to Noon events. The afternoon parties invite kids and their caregivers to G-rated versions of all the late-night stuff adults get to enjoy.


Countdown to Noon has been a regular tradition at the Pittsburgh Children's Museum for years and 2019 promises live music by jazz musician Lee Robinson and the Iska Band, storytelling by Broadway and film actor Tim Hartman, and more. (11:30 a.m.-12:30 p.m. 10 Children's Way, North Side. $13-15. pittsburghkids.org). Other options include Noon Year's Eve at the Pittsburgh Zoo & PPG Aquarium (11 a.m.-1 p.m. 7370 Baker St., Highland Park. $14-15. Free for members and kids under 24 months. pittsburghzoo.org) and the New Year's Eve Family Celebration at Phipps Conservatory and Botanical Gardens (11 a.m.-2 p.m. 1 Schenley Park, Oakland. Included with admission. phipps.conservatory.org), both of which include live entertainment, activities, and a mid-day ball drop.


Looking for family fun that won't break the bank? Public libraries throughout the Pittsburgh region will host free countdown to noon events, so families get to ring in the New Year together while supporting a valuable asset in their community.
A sober(ing) experience
Despite the holiday's booze-soaked reputation, not everyone wants to drink on New Year's Eve. Dry patrons will find some places catering to their needs, including the obviously named A Sober NYE Celebration hosted by Empath Sober Bar & Social Events at Bantha Tea Bar. The event promises "playful and inventive non-alcoholic" mixed drinks crafted by Empath, a DJ set by Emma Vescio, homemade empanadas by Mi Empanada, and a complimentary toast at midnight (8 p.m-1 a.m. 5002 Penn Ave., Bloomfield. $5. 16 and up. empathpittsburgh.com)


If you still want to drink while having options for your non-boozy boo, friend, or family member, try the New Year's Eve Celebration at Kingfly Spirits. The 1920s-inspired party includes a selection of cocktails, wine, and beer drink specials, as well as spirit-free mocktails. Sip away as you listen to live jazz, dance to music spun by DJ SWÄV PAV in the confines of the local distiller's "urban barn" setting. There's also a special "Nosh Loft" option for those who want to enjoy bites from esteemed local restaurants like Morcilla and Black Radish. Best of all, there's no cover (6 p.m.-12 a.m. 2613 Smallman St., Strip District. Free. $30 for Nosh Loft. kingflyspirits.com).


Not to be outdone, New Year's Eve at Mixtape will have a selection of both non-alcoholic and alcoholic cocktails, as well as other beverages. The more lounge-y, laid-back event welcomes patrons to play a variety of in-house games as they listen to a curated selection of music and enjoy food, including gluten-free and vegan options, from Azorean Cafe. Tickets are limited so get them while you can (8 p.m.-2 a.m. 4907 Penn Ave., Garfield. $100. mixtapepgh.com).