Last year, Pittsburgh City Paper staff watched a holiday movie every day of December, with a large bulk consisting of corny TV movies. As expected, nearly every one of these movies was about Christmas. It made me wonder what a cheesy Hanukkah movie would look like, one I laugh at as much as the Christmas ones. This year, both Hallmark and Lifetime rolled out Hanukkah movies (that are also about Christmas).
Mistletoe & Menorahs (premieres Sat., Dec. 7 on Lifetime) tackles a classic holiday problem: Christmas-obsessed toy designer Christy (Kelly Jakle) is excited to impress a potential client at his holiday party, but becomes distressed when she learns that he's Jewish and it's a Hanukkah party (his name is David Berger, and the film is set in New York). Now, Christy has only eight days to learn everything about Hanukkah and needs to find a "Hanukkah tutor" STAT. Who among us has not experienced this predicament?

Unfortunately, Christy doesn't know a single Jew (or how to use Google, apparently), but her coworker remembers that her kid's teacher is Jewish. Thank God! And it just so happens that Hanukkah teacher, Jonathan (Jake Epstein), desperately needs to learn about Christmas from Christy so he can make a good impression on his girlfriend's dad. (Who apparently loves Christmas so much he would scorn a Jew for not having a festive enough apartment?)

You can see where this is going. Although these holiday students aren't single, they are clearly going to end up together. Christy's boyfriend Peter is a bro-y banker who hates all holidays, but especially the word "latke." Jonathan's gentile girlfriend is nice enough, but in one scene, while Jonathan is explaining Hanukkah, she quips, "Isn't Hanukkah random?" Christy agrees, "So random." When I heard this, my soul left my body. It's easily the funniest description of the holiday I've ever heard, especially since Hanukkah is much less random than Christmas, with its sky deer and egg beverages. All of the non-Jews in the movie are baffled, disgusted even, at the idea of putting sour cream on latkes (fried potato pancakes), despite the existence of sour cream on baked potatoes.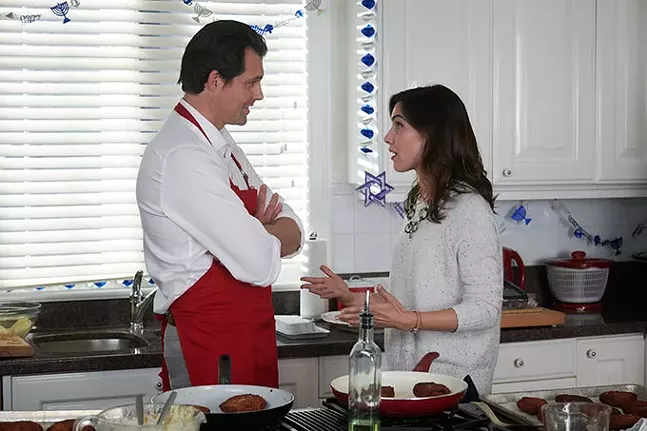 Even so, Jonathan and Christy overcome their holiday barriers – like Jonathan never having heard of Secret Santa (inconceivable) – and find love. And just in time for the work-related Hanukkah party where Christy can show off her new Jewish boo and get the Jewish client.

Hallmark's version, Double Holiday (premieres Sun., Dec. 22), has a better grip on the holidays. It once again follows a work-holiday dilemma when Rebecca (Carly Pope) has to team up with the coworker she hates, Chris (Kristoffer Polaha), to impress a potential client by throwing a holiday party at their boss' house. Rebecca does Hanukkah, Chris does Christmas, and both are up for the same promotion. They each have a fair grasp on each other's holiday (Chris can make a latke, for example). There is more awkward blessing recitation and an analogy that compares a dying cell phone battery to the oil in Hanukkah's origin story. Inconspicuously, both movies have a non-Jewish lead with a name very similar to Christ.

Aside from Eight Crazy Nights and An American Tail, there are few Hanukkah movies, but that's OK. I don't need Hanukkah to be as big or as self-mythologizing as Christmas, and I certainly don't need dozens of new holiday movies every year, but every now and then, it's nice to watch my own holiday instead of someone else's, even if it's in the context of choking on my own laughter because someone made a Jewish character's ringtone "The Dreidel Song."