The word "green" is richly evocative. It conjures the botanical, the natural world ripe and lush. It's fresh and clean. The word "porno" is highly suggestive. It references sexuality that goes beyond the basic primal instinct, into manipulation and profiteering.
"GREEN PORNO." The combination of these words is unexpected and unusual. They just don't fit (something that rarely happens within either the expanse of nature or the confines of pornography). Unsure how to add them together, we veer toward one or the other, envisioning either the hedonistic celebration of the organic or the artificial recreation of the carnal.
What we probably don't imagine is a supermodel and Golden Globe-nominated actress in short films, playing a variety of insects and sea creatures.
"If I were a ..." Thus Isabella Rossellini begins each five-minute installment of her Sundance Channel series Green Porno. Visually, the live-action episodes are more SpongeBob than National Geographic. With cartoonish set pieces and fantastical outfits, Rossellini defines herself as earthworm, dragonfly, whale or barnacle. She details what reproductive organs she'd possess as each, and how they'd be used to propagate the species. Often, she enacts a mating ritual.
Onscreen, Rossellini is as beautiful as ever, having gained international fame as the face of Lancôme in the early 1980s. And she's as quirkily brave as you'd expect from the actress who leapt out of the mainstream and into the Lynchian net of Blue Velvet.
In Green Porno, she's spoken lines like, "We anchovies do everything together, even mating — in big orgies!" and "My anus would end up on top of my head ... unfortunately." She's also the series' director, producer and writer.
"I think of myself as an environmental artist," she told CP during a recent phone interview from the road. While she's spent most of her career in front of the camera, her personal life has been geared toward the study of animals. At first this was self-directed, though more recently she's pursued a master's degree in animal behavior at Hunter College.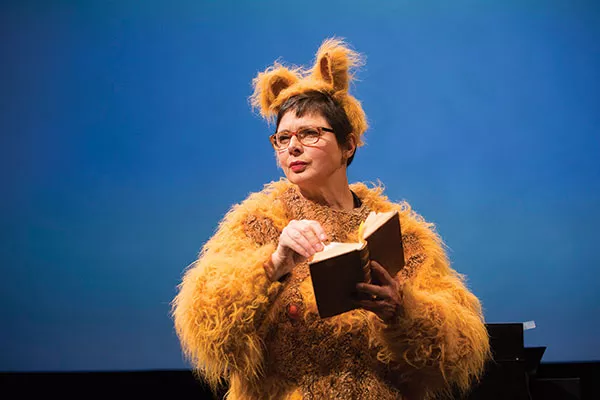 Of her love for animals, she says, "I can't remember a time without it." She adds, "I would have started [advanced education] earlier, but by the time this type of study got formalized I was already an adult actress and model."
Green Porno began when Sundance asked her to develop a short film for the environmental program The Green. "I have passions for both art and animals. To be able to bring them both together is miraculous." She submitted the first three films of what would become the series, figuring that "animals don't sell, but sex does." Additional series have since been produced, including Seduce Me: The Spawn of Green Porno and Mammas, logically following mating with pregnancy and birth.
When a friend suggested that the material could become a spoken piece, Rossellini initially balked: "I said no way. I'm non-capable. I've never done a monologue." But when the opportunity arose to work with Jean Claude Carriere, screenwriter of The Unbearable Lightness of Being and The Discreet Charm of the Bourgeoisie, she was in. "He's a legend. I couldn't resist," she says, laughing. The result includes more in-depth investigations of animal courtships, a few costumes, some puppets, projected illustrations and an evening the New York Times says "suggests a class by a high school biology teacher who is angling for a suspension."
Now she's toured Europe, performing in English, Italian and French. This year, she has brought the show to the United States, including shows at the Brooklyn Academy of Music and, on Nov. 21, a stop at Carnegie Music Hall, in Oakland, courtesy of The Andy Warhol Museum.
Rossellini says that while she enjoys stage work, touring is a little more difficult. "The part that's a little harder is there's lots of traveling, hotels," says Rossellini. She feels at home at her farm in New York state, with "chickens, sheep, dogs, cats. ... I try to limit myself to two dogs. I try." In her spare time, she raises and trains puppies to become guide dogs.
Her love for animals and her work is evident in her voice, as is her longing for her own animals in particular when they're mentioned. While the series and consequently the stage show are handled with tongue-in-cheek humor and a non-clinical approach, they're also driven by the utmost respect for the subject. Viewing the videos is a gloriously indulgent pastime that you can also mark off as educational. Rossellini's rendition of the material live promises to be nothing less than spectacular.