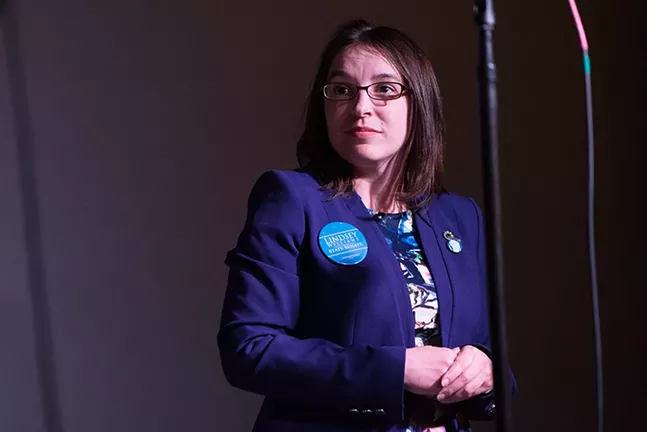 Pennsylvania's 38th state Senate district covers most of Pittsburgh's North Hills and was one of several districts in the state represented by a Republican that voted for Democrat Hillary Clinton in 2016. The district was redrawn for its 2014 election and then taken over by Republicans.
Now, an internal poll shows Democratic state senate candidate
Lindsey Williams
with a nine-point advantage, forecasting the possibility of the district flipping from red to blue. The 38th District encompasses most of Northern Allegheny County from Franklin Park eastward, and also includes Highland Park and sections of East Liberty in Pittsburgh.
Oregon-based
Patinkin Research Group
conducted phone surveys of 370 likely 38th District voters from Aug. 13-15. The poll's sampling error was 5.1 percent and there were no questions asked about how many voters were registered Democrats, Republicans, or Independents. The poll was provided to
City Paper
by the Williams campaign.
When asked who they would vote for concerning the state Senate race, 52 percent said Williams and 43 percent said Republican candidate Jeremy Shaffer. The poll also had President
Donald Trump
's district approval rating at 37 favorable to 58 unfavorable.
When asked who respondents plan to support for U.S. Congress, 54 percent said U.S. Rep.
Conor Lamb
(D-Mount Lebanon) and 41 percent said U.S. Rep.
Keith Rothfus
(R-Sewickley). This 13-point lead for Lamb is similar to a
Monmouth poll
taken in July.
Williams says this poll indicates voters are looking for a Democrat to represent the district.
"This is a district that is looking for a change," says Williams. "The last couple of years, seats have
flipped
all over the district. Conor Lamb had an event in Franklin Park with 100 people. A couple years ago that wouldn't have happened, but it's changing now."
Williams, who was fired for starting a union and then won a resulting case with the National Labor Relations Board, believes her background with labor rights is resonating with voters.
"Fighting for working families is something the district is responding to," says Williams. "I have spent my career fighting for working families and that is what I want to do for [voters]."
Increasing investments in education and health-care services are issues Williams supports and she believes are moving voters. She wants to fund these
increased
investments
by creating a
severance tax
on natural-gas drilling, and by closing a loophole that allows businesses headquartered in other states to avoid state taxes. Williams says this would avoid any additional burden on homeowners.
"Everybody I have talked to, they care deeply about their public schools," says Williams.
She says the poll numbers show her campaign has momentum, and she is hoping to capitalize on that by opening up a campaign office in Ross Township on Sept. 8.
Carl Fogliani of the Shaffer campaign disregarded the poll numbers.
"We don't need to talk about our numbers," says Fogliani. "[Williams] can roll out polls, but Shaffer is going to roll out leadership for the district."
Shaffer, a Ross Township supervisor, defeated incumbent state Sen. Randy Vulakovich (R-Shaler) handily in the May primary.
Fogliani says 38th District voters support representatives regardless of party, but didn't address the districts shift to supporting Democrats over the last couple years.
Fogliani is confident voters will support Shaffer for his commitment to education and free-market principles. Shaffer's campaign website says he is a product of public schools and boosts different educational avenues including parochial schools, private schools, and homeschooling.
"Voters are looking for people committed on district-level issues," says Fogliani. "And Jeremy understands that."
The general election will take place on Nov. 6.