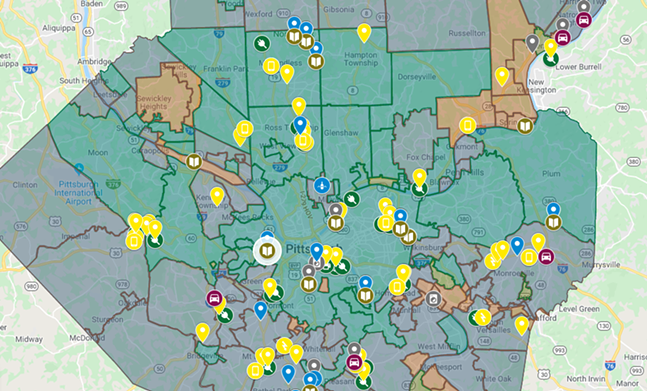 Are your piles of discarded cardboard, old Rite Aid circulars, and empty La Croix cans getting out of hand? Or am I just outing myself? Either way, the Office of Allegheny County Controller Chelsa Wagner has possibly found a way for Pittsburghers like me to relieve their recycling anxiety.
At a news conference earlier this week, Wagner announced the launch of the
Recycling Resources Map
, a new interactive online tool that would allow people to easily search for both private and municipally run recycling services.
Users can use the map by checking off boxes in a sidebar, denoting services like curbside pickups in various Pittsburgh neighborhoods and throughout the county. Also included are drop-offs for hard-to-recycle items like televisions, computers, appliances, light bulbs, batteries, and cell phones. There are even options to find scrap yards for cars and places that accept construction materials. Markers will then pop up on the Google-powered map showing where the services are located.
Clicking on a marker will also bring up relevant contact information and instructions about how materials should be prepared before the drop-off or collection.
In addition to the Recycling Resource Map, users can still reference a list of
recycling resources
on the Allegheny County website.
Hopefully, this map can help alleviate the city's recycling woes, as many neighborhoods have seen their pick-up services cut back or eliminated altogether, and where the single-stream recycling approach has come under scrutiny for its lack of effectiveness (cue that damning
Pittsburgh Post-Gazette story
.)