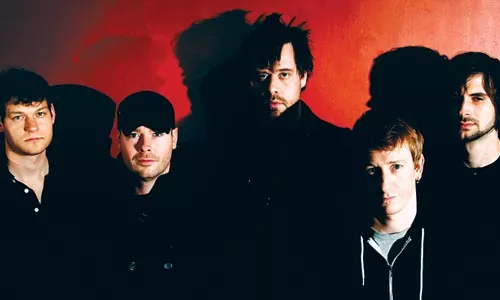 Massachusetts post-rock band Caspian is best characterized as huge. Huge in terms of volume -- occasionally dabbling in sophisticated quiet, the instrumental five-piece always returns to massive guitar swells -- and in terms of expanse. An early EP was reissued on 12-inch vinyl, and both of the band's full-lengths have been double LPs.
The latest of those big releases is Tertia, issued last year by The Mylene Sheath, a label that's becoming a go-to for all things earnest and epic. Clocking in at just under an hour, the album stretches from nearly ambient to loud, mid-paced Hum-style rock.
For the most part, Caspian sounds best on the quieter tracks, though at times the offsetting swells-and-shrinks method also works well on Tertia. The song "Of Foam and Wave" is one of the album's standouts and, clocking in at over six minutes, it takes sufficient time to explore dynamic and rhythmic shifts.
The band obviously understands how to use the tension between its quiet moments, relaxed rock and balls-out post-metal. But at times on Tertia it might behoove the band to stretch out one particular theme -- the rock riff about halfway through is intensely satisfying -- and really explore it, rather than so quickly finding new ways to change the rhythm, tempo or volume.
Caspian, which anticipates releasing yet another double LP before the end of the year, appears Sun., Sept. 12, at Garfield Artworks, in a show promoted by frequent CP contributor Manny Theiner.
Caspian with Stoop Kid, Corridors and Requiem. 8 p.m. Sun., Sept. 12. Garfield Artworks, 4931 Penn Ave., Garfield. $8. All ages. 412-361-2262 or www.garfieldartworks.com