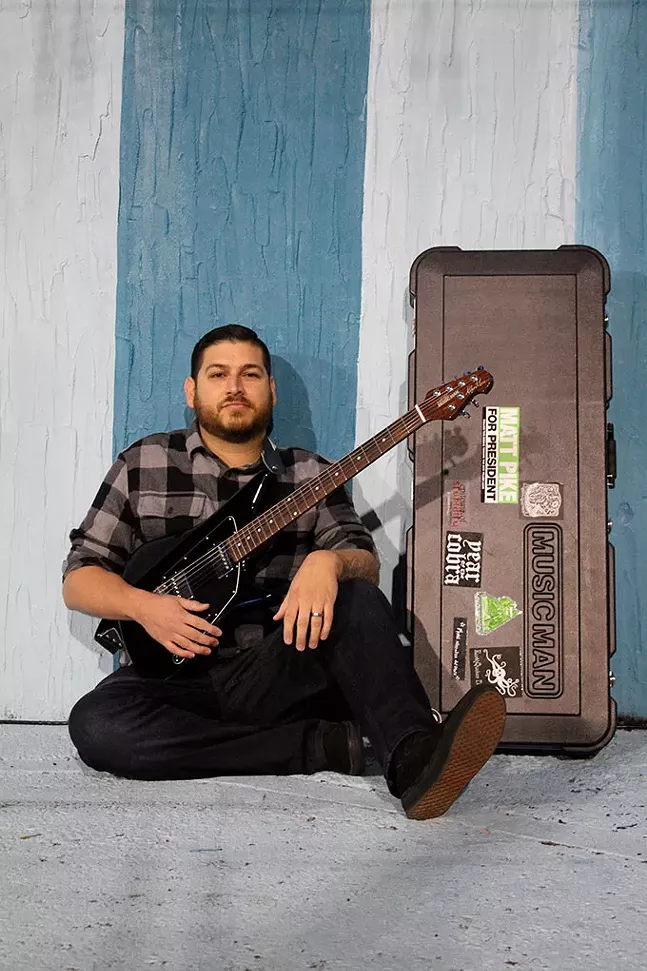 There have been times during guitarist Emilio Rizzo's sets when he's caught tender moments in the crowd. Audience members close their eyes and slowly nod along to his music, similar to a trance-like state of meditation. Rizzo's music, however, falls under the experimental, doom metal, post-punk category.
"Even though my music is dark, something about the heavy riffs is grounding," says Rizzo, who creates music under the moniker Fuzznaut.
Form is Emptiness, the Pittsburgh-native's debut LP, is a four-track release that features only guitar to "summon sequences that are a complex clamor of timbre and power ambiance." Through minimalist sound structures, listeners are taking on an ominous, yet relaxing journey.
If Rizzo's original plan worked out though, Form is Emptiness would not exist. Upon graduating college, he gave up playing music to pursue a career as a drug and alcohol counselor. He thought being "an adult" meant letting go of hobbies like playing the bass, something he had done in bands throughout college and high school. Rizzo, the youngest of five, with four older sisters, got into punk rock because of his siblings' interest in the genre. He picked up the bass after one of his sister's friends left the instrument at his house.
"I would be like, 'Does this sound like a Ramones song? Does this sound like Green Day?'"
After realizing that one can, in fact, have a day job and play music, Rizzo began teaching himself guitar and looking for a local band to join. Around that time, his musical taste was progressing from punk rock to doom metal bands like Sleep, Earth, and Russian Circles. But Rizzo had some difficulty in his venture.
"I tried getting into bands as an older adult, and it was hard," he says. "[I had] switched to guitar, and they are like a dime a dozen."
Now a married father with a day job, Rizzo had lost touch with the local music scene that he had once been part of. So instead of waiting for a band to take him on as a member, he became his own band.
He started writing music influenced by Earth, a mostly all-instrumental band. In 2018, founding member of Earth, Dylan Carlson, released Conquistador, an album that was just instrumental guitar.
"When he did that, I was like, 'OK, I can do this, this is my format,'" says Rizzo. "I started writing guitar things without backing. It was weird in the beginning, because I was used to punk rock with heavy beats."
For Form is Emptiness, Rizzo drew inspiration from Buddhist teachings. In addition to using the practice during his drug and alcohol counseling sessions, Rizzo discovered Rob Warner, bassist in the hardcore punk band 0DFx and owner of the blog Hardcore Zen.
"[Warner] mentioned attachment is what fuels you," says Rizzo. "The whole thing is to detach but also be in the moment." Rizzo believes this is what his music allows people to do.
The first two songs on Rizzo's album, "Emptiness is Form" and the title track "Form is Emptiness," reference the Buddhist passage "Heart of Great Perfect Wisdom Sutra." It begins:
Avalokiteshvara Bodhisattva, when deeply practicing prajña paramita, clearly saw that all five aggregates are empty and thus relieved all suffering. Shariputra, form does not differ from emptiness, emptiness does not differ from form. Form itself is emptiness, emptiness itself form.
Rizzo explained that if you combine the two concepts, form is emptiness, emptiness is form, it means the absence of attachment.
"I want people to stop and listen," he says. "'Will it help you stay in the moment? Will it help you relax?'"
But first and foremost, Form is Emptiness serves as an outlet for Rizzo, who "has dark clouds everywhere," literally, referring to the gloomy Pittsburgh weather, and figuratively, from the heavy stories he hears during his day job.
"[The album] is about expressing raw emotions," says Rizzo. "If you connect to it, that's cool. But it's not like this is about this specific thing."
Like mediation, everyone will get something different out of it.