On a sweltering Sunday morning in August, at Munhall's Sunday Heritage Market, a couple of young men are trying to figure out the most efficient way to bend a piece of rusty rebar. Their instructor tells them there is more than one correct way, and that they need to choose their method to match the desired goal. It's not the kind of black-or-white, highly structured rigor you might find in a high school shop class, but that's the function the program is trying to serve.
The Mobile Sculpture Workshop is a pilot program from Pittsburgh's Industrial Arts Cooperative, a collective of metalworkers and sculptors who have installed many public works over the past 20 years. The IAC's guerilla projects have included the Carrie Deer, at Rankin's Carrie Blast Furnaces; its most recent commissioned piece, "The Workers," consists of two 20-foot-tall human figures built from steel recovered from abandoned mills. And immediately after that sculpture was unveiled in South Side Riverfront Park, in 2012, the IAC launched the Mobile Sculpture Workshop.
That project is now taking form as a 6½-foot dove spreading its steel-reinforced wings. It's significantly more biomorphically detailed than the hard, I-beam edges of "The Workers," if less impressive in scale. But even before the IAC artists knew what they'd build next, they asked why.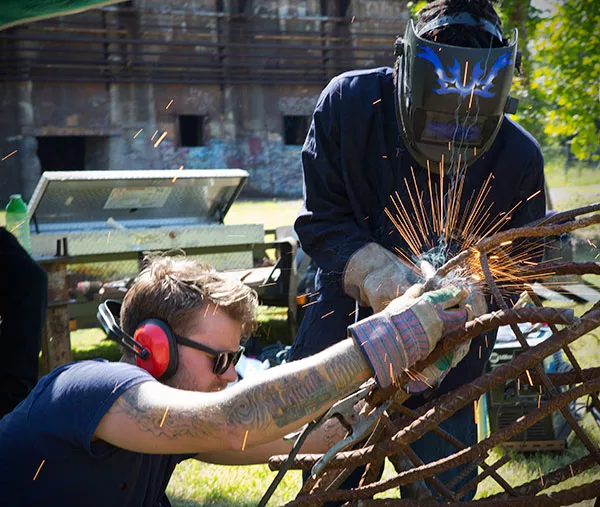 By recruiting the youth of Hazelwood to design and build the sculpture, the IAC intends to prove the validity of private apprenticeship programs as an alternative to vocational schools and high school shop classes. Organizers also hope to improve the Hazelwood community by training and paying their apprentices, and eventually installing the sculpture in the neighborhood permanently. But the Mobile Sculpture Workshop is as much proof of concept as it is a community service or art installation.
"We're building the sculpture in public this time, because we want to show people exactly what the program is like," says instructor Marcus Rettig. "That way we can present the project as a viable new training system."
The current eight apprentices were chosen in May, and began taking weekly introductory welding classes. Any time the students were in the shop, they were getting paid, thanks to a generous community-service grant. And although some instructors were paid too, others were volunteers who set out to show what they were capable of, scheduling events at a dozen separate locations in the Hazelwood-Homestead area.
"We had been trying to get into more direct community outreach, and we knew we really wanted to work with Hazelwood," says project administrator Andy Prisbylla. "We built 'The Workers' here and learned a lot about the history."
As a steel boomtown and ethnic crossroads, Hazelwood was once a thriving Pittsburgh neighborhood. But heavy industry is gone, and the neighborhood's population has been declining for decades; as of 2010, some 26 percent of Hazelwood residents were living below the poverty line. Says Prisbylla, "It's a neighborhood that feels like it's on the precipice of some long-overdue re-growth, and we wanted to reflect that with a piece of art."
It's a truism that between budget-constrained school districts and a cultural focus on college prep, resources for future blue-collar workers are lacking. Pittsburgh Public Schools still offer vocational programs: Taylor Allderdice High School — where many Hazelwood youths go — has 16 Career and Technical Education Labs, whose curriculum is designed to help students find high-demand jobs immediately after graduation. Still, as with many school initiatives, the future of such programs is uncertain.
Thanks to a major grant from a company that declines to be named (plus $1,000 from Awesome Pittsburgh), the IAC is looking to build an innovative new program that will be ready if and when the bell finally tolls for shop class.
"We passed out applications at a bunch of high schools in the area, so we could get a group of apprentices from all different backgrounds," Prisbylla says. "But I get the feeling that the workshop has become an inspiration to all of them. Something about it just feels necessary."
"I go to the Winchester Thurston School, and we have a shop class, but it's very visual-artsy, not as practical as this," said one apprentice, Andrew Mullins, while taking a break from grinding the rust off some rebar. "My art teacher recommended the Mobile Sculpture Workshop to me, but I had no idea it would be this much fun."