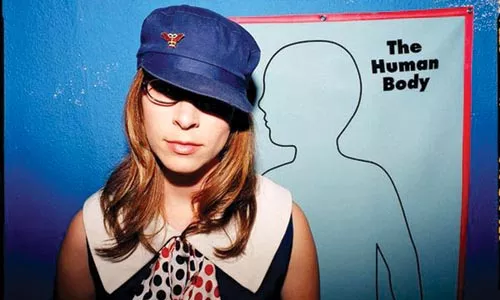 Indie songwriter Laura Veirs was being chauffeured around New York City last week while talking with me on the phone. Barely five minutes into the interview, I heard a scream from her friend behind the wheel. "Oh god, we just got into a car accident," said Veirs. "But it's OK, we're fine -- I'll just call you back in a while." Click.
It seems that Veirs -- a physicist's daughter whose songs employ imagery from the natural sciences -- got a practical lesson in force vectors via the collision between a Volvo and a FedEx truck. And I got the shortest, and most dramatic, interview ever.
Yet Veirs phoned back some hours later to discuss her voracious reading habits, her studies in geology and Chinese, and how these unlikely elements tie into her latest album for Nonesuch, Saltbreakers. On the album, Veirs takes an almost T.S. Eliot stance on literary influence: "There's things that other people have thought of, and you turn them into your own, and someone else takes your idea and turns it into theirs," she says. "And people are really leery of that in the States, because we're such an individualist society and everybody has to be so original, 100 percent."
She happily cops to the fact that the title track cribs some lines from A.S. Byatt's meta-romance, Possession; "Don't Lose Yourself" is heavily derived from Blindness, by Portuguese author Jose Saramago. "It was really hard to get ahold of him to ask permission to use his words," says Veirs. "I embellished it and added phrases of my own, but I felt really like it was an important ethical thing to do, to get his permission." To fill downtime on the road, Veirs herself has been turning to short-story writing.
Yet despite all her brainiac tendencies, Veirs' music retains a groovy rhythmic quality rare among singer-songwriters in general; the aforementioned "Don't Lose Yourself" has a complex, gated-reverb drum beat that would leave Peter Gabriel scratching his head. "Lots of things come in and out, and it leaves a lot of room for rhythmic variations," she says. "Tucker Martine, my producer, would have a lot to say about that -- I have to give him a lot of credit for these arrangement ideas. And my bandmates, Steve [Moore] and Karl [Blau]."
Form your own hypotheses and philosophies of influence on Fri., July 20, when Veirs and her band The Saltbreakers open for K Records songstress Mirah at Diesel.
Laura Veirs and The Saltbreakers opening for Mirah. 6 p.m. doors. Fri., July 20. Diesel, 1601 E. Carson St., South Side. $12 ($14 day of show). All ages. 412-431-8800 or www.dieselpgh.com