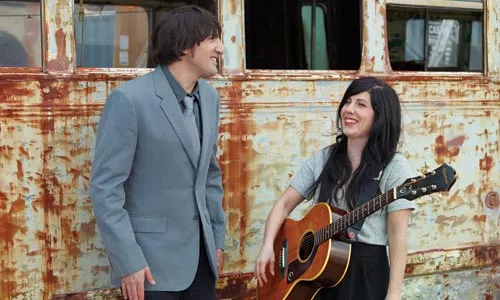 Often, a singer-songwriter will back away from the mic for a verse or so -- as if to remind the audience that they're sharing the same air, not just coming through a PA system. Since debuting in 2004, acoustic indie-pop duo KaiserCartel has taken that general idea and turned it into both a trademark of its show and a moment of crisis. At the end of their set, Courtney Kaiser and Benjamin Cartel wind through the crowd, in search of human contact.
"It sounds crazy, but I try to feel it out and peg people -- "OK, this person has an issue right now," says Kaiser, via phone. "And I'll sort of stay with them for a minute and really sing to them, with the intention of soothing something that's going on. Some people start crying, some people start singing, some people are really, really uncomfortable, like they can't believe that we're doing this. It's our favorite part of the show -- a very real experience."
At Brillobox last year, Kaiser locked eyes with me, stood close, and seemed to sing directly into my face. Strong stuff. (In the Midwest, she notes, people "will actually physically touch one of us or say something to one of us, even though we're singing.") It's one of the ways KaiserCartel has taken a simple idea, presented it with economy and directness -- and turned it into something artful and emotionally resonant.
KaiserCartel's recording style also reflects these values. Instead of the endless home recording done by many with a similarly dreamy indie-pop sound, the duo often writes its material on the road, and hones it through months of touring before setting foot in a studio. Its full-length debut, March Forth, was recorded in eight days, in an L.A. studio. The band's new release, the moodier Secret Transit, was done in just four -- in a church in England, midway through a tour.
"The idea came from our producer Matt Hales -- he just thought that we would enjoy the space, and being out of a sterile studio," Kaiser says. The church "has a lot of history, being in Blackheath -- that's where they put all the [bubonic] plague victims." The album, self-released on June 8, was funded by fans, with a portion of the proceeds donated to environmental nonprofit Art of Conservation.
One of the key songs is the driving "Carrol Street." "The narrative is about us, Courtney and I, meeting for the first time to get together and write songs," says Cartel. "It's about the experience of getting on a train, meeting up with somebody -- what kind of thoughts might be going through your mind as you were entering this new friendship and new relationship." He adds, "We're the characters of the song, narrating what's going on in the song."
While both March Forth and Secret Transit sound full and resonant, they're not just studio creations that sound stripped away when the two play live. Onstage, the pair also manages to turn economical values into an engaging, full-sounding show. At times, you'll see Cartel singing and playing a kick drum with his foot, a guitar with his hands, while Kaiser similarly multi-tasks. With a drum kit that nests together into a compact case, all of their instruments -- including amps, guitars, a harmonium, percussion -- fit into the band's Prius.
Of course, not everything about KaiserCartel is so intimate and compact. Kaiser toured as one of John Mellencamp's backing singers, and has sat in with Sean Lennon and Sufjan Stevens; Cartel also has outside musical projects. They've had considerable success licensing KaiserCartel songs to HBO and NBC shows, and their songs seem to fit easily into other commercial uses. I remember being startled in a Downtown discount store when their single "Oh No" came on over the PA system, alongside much more conventional material.
"Everybody tells us they'll be in Lowe's or Bob Evans, or Big Lots or something bizarre" and hear a KaiserCartel song, Kaiser says, with a laugh. "We've heard of these instances, but it hadn't really happened to us. Then one day, Ben is in a Staples, making copies, and all of the sudden [our song] "OK" came on, and he was like, "This is my band!" Apparently, "they didn't believe him."
"I think there's two worlds that we fit into, in a weird way," Cartel says -- both the intimate and the commercial. "We don't really plan it out that way, but it's just how our music comes out."
KaiserCartel at WYEP Final Fridays at Schenley Plaza. 7 p.m. Fri., July 30. Schenley Plaza, Oakland. Free. All ages. 412-381-9131 or www.wyep.org