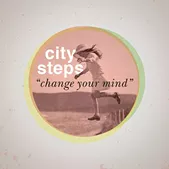 A typical City Steps performance usually features some tried-and-true elements: Who-ish backbeats with guitar melodies that evoke Belle & Sebastian, as well as Scottish post-punk forebears like Aztec Camera or Orange Juice. On top of that, guitarist Michael Lawton sings with choirboy sincerity, tinged with a bit of melancholia. That crisp sound was all over the 2014 digital EP New Fiction.
But jangle is not the first thing to pop up on the new EP, Change Your Mind. The title track sounds more like Destroyer, with banks of synths accompanying Lawton's voice. Jesse Ley (who doubles as drummer for Delicious Pastries) joined City Steps on keyboards just over a year ago, and he brings a new dimension to the music. While this track might touch on synth pop (thanks in part to synthetic handclaps), the keys on "Procrastination Game" and "Golden Lights (Are Gonna Make You Cry)" move in the direction of the more sophisticated pop from the '60s British Invasion.
"Change Your Mind" sounds like a departure for the band, but it actually fulfills the singer's dream. "I've always pictured my songs that way, when I wrote them," Lawton says. "Not necessarily with all the electronic elements of production, but I always hear them as these big soundscapes with a lot of complex arrangements. That's always how I've wanted our recordings to sound."
Lawton says the songwriting process doesn't come any easier to him. "I'm more of a tinkerer. I'll come up with a germ of an idea and just keep working it over and over again until it turns into something," he says, adding that Ley, drummer Joe Tarowsky and bassist Ross Reilly (who was recently replaced by Stephen Gallo) played an important role in the arrangements.
City Steps released Change Your Mind in December, not realizing that the holidays aren't necessarily the best time to drum up attention for a new disc. But if you missed them that first time around, the band — and the EP — can be found at Club Café this weekend.