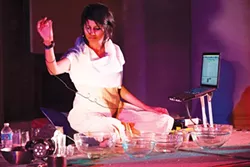 With 1.3 billion people, India is the second-largest nation on earth, and about 2.6 million Indian immigrants and their children call the United States home. Yet, except among fans of Indian restaurants and Bollywood, modern Indian society and culture get relatively little attention here.
In Pittsburgh, at least, that's about to change with India in Focus. The Pittsburgh Cultural Trust's six-week festival of art and culture from the Republic of India and the Indian diaspora is a likely highlight of the arts season.
It starts at the Sept. 25 Gallery Crawl, including a big street party with British-born, New York-based DJ Rekha, who merges classic bhangra and Bollywood sounds with electronic dance music.
Indeed, many of the festival's artists explore how traditional and modern Indian culture blend — or don't. The festival's five visual-art exhibitions, all opening during the crawl and all with free admission, include the North American exhibition debut of U.K.-born and -based Hetain Patel, at Wood Street Galleries. Patel's At Home includes videos and photographic series that uses humor and pop culture to explore identity formation, especially for people with marginalized identities. Also at Wood Street, photographer Nandini Valli Muthiah offers three photographic series that place traditional Indian cultural icons in contemporary settings — think a bushed Krishna slumped in a hotel room. And SPACE hosts Plus One, in which Indian artists Silpa Gupta, Surabhi Saraf, Sumakshi Singh and Avinash Veeraraghavan use new media to summon the repetition and pattern-making of traditional Indian culture.Birth Series, at 707 Penn Gallery, is photographer Gauri Gill's documentation of a midwife delivering her grandaughter in a remote Indian village. And at 709 Penn, Sarika Goulatia, a Pittsburgh-area artist of Indian descent, offers a "feast for the senses" that employs traditional powdered pigments and spices to create contemporary installation art.
Dance programs, all at the Byham Theater, include the acclaimed, Banglagore-based Nrityagram Dance Ensemble (Oct. 3), and U.K.-based Aakash Odedra Company (Nov. 6), the latter inspired by South Asian classical dance, contemporary dance and collaborative partnerships. On Nov. 8 comes Mystic India: The World Tour, "a Bollywood dance spectacular" with musicians, aerialists and acrobats joining the dancers, and 750 costumes.

Theater offerings include Why Not Theatre's A Brimful of Asha (Oct. 15-17), in which Canadian-born playwright Ravi Jain and his real-life mother tell what happened when Jain's parents tried to introduce him to Indian brides. Indian Ink Theatre Company's The Elephant Wrestler (Oct. 30 and 31) is a romantic thriller about a poor tea-seller and an abandoned girl. And Alice in Wonderland is India's Tram Theatre's contemporary exploration of imagination through the lens of Lewis Carroll's classic literary creations, for ages 7 and up.
On the music side, classical tabla virtuoso Zakir Hussain teams up with the great English jazz bassist Dave Holland and the eight-member SFJazz collective for an evening of adventures in sound.