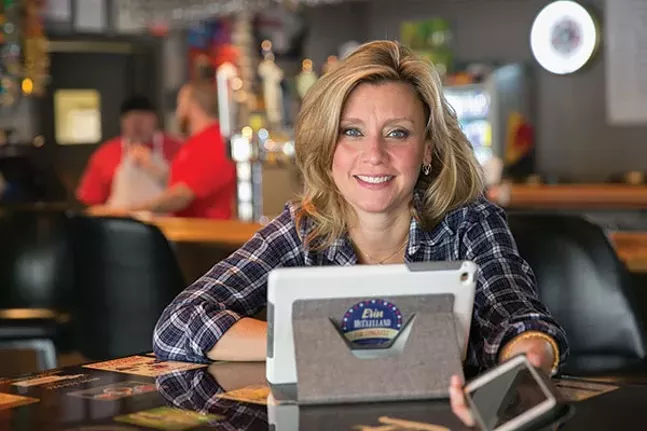 An Oct. 6 debate in Monaca, Pa., between U.S. Congressman Keith Rothfus (R-Sewickley) and his Democratic opponent Erin McClelland showcased stark differences between the two candidates in their rematch for Pennsylvania's 12th Congressional District. Rothfus spoke softly and his answers were short, rarely using all of his allotted time. Conversely, McClelland spoke loudly with passion and drew several ovations.
But that's not the only difference the candidates have demonstrated in their battle for the district, which serves Beaver, northern Allegheny and Cambria counties, as well as smaller sections of other counties, stretching all the way to Johnstown.
Press access is different, too. McClelland met with City Paper for more than an hour to talk about her plans. Rothfus didn't respond to multiple requests for an interview. (When CP wrote about the race in 2014, Rothfus actually scurried away from a CP reporter at a campaign event when confronted.)
Rothfus has been sticking to his typical low-key strategy of small meetings at coffee shops during the day, walking in parades and occasionally going door-to-door to meet constituents. In contrast, McClelland is running an aggressive campaign: attending large events across the district, speaking with any press outlet and even shaking hands with Donald Trump supporters at rallies.
"I am really looking forward to doing what I have always done," said McClelland at the Oct. 6 debate. "And that is [to] stir things up, get people thinking outside the box … and really bring this district, and this country, into the 21st century."
Can McClelland's energy and Rothfus' lack thereof make a difference and switch the district from red to blue? So far little attention has been paid to the race, and pollsters place the district as a safe Republican victory.
McClelland, who is from Lower Burrell and works as a health-care professional, feels Rothfus' low-key strategy has made him an absentee representative.
"[His absenteeism] tells me that Keith Rothfus has no idea who he is or what he is doing here," McClelland said when she met with CP. "He has no idea what is going on in his district."
In February, when steelworkers were locked out due to contract disputes with Allegheny Technologies Inc., McClelland felt Rothfus failed his constituents. McClelland's campaign took video testimonials of workers from United Steelworkers Local 1196. One worker said, "I met Keith Rothfus out in McCandless, and I asked him what he was going to do for us while we were locked out, and he told us, 'not a thing.'"
McClelland is also critical of the manner in which Rothfus does meet with constituents. "He has his coffee [meetings] during working hours, so he gets to go talk to three senior citizens," said McClelland. "[But he hasn't] held a single town hall after working hours, so working people can show up."
McClelland feels Rothfus is avoiding the difficult work of being a representative because of a belief in limited government.
"I don't think he likes his job," says McClelland. "He came in with the Tea Party wave, and that wave is literal destruction from within. If you hate the U.S. government, then don't go and work there."
But Allegheny Republican Committee vice chair Dave Majernik believes Rothfus has a constant presence in the district.
"I think he is always around," says Majernik. "He was in three different places that I have heard of, and that was just in one day."
Majernik also says that Rothfus holds town-hall-style conference calls where constituents are allowed to call in. And Majernik feels that Rothfus' low-key personality is what the district wants: someone with a small ego, who will keep government off constituents' backs and will stand up for big issues in Washington, D.C.
During the Monaca debate, Rothfus said a vote for McClelland is a vote for the status quo.
However, Rothfus' campaign falls more in line with the status quo of big-money politics than McClelland's. According to recent quarterly campaign-finance reports, McClelland has averaged about $500 per donation, mostly from retirees, teachers, lawyers and utility workers. Rothfus has averaged close to $1,000 per donation, mostly from doctors, bankers and CEOs. He has also received $432,000 from PACs, about 20 times the amount McClelland has received from PACs.
G. Terry Madonna, political pollster and professor at Franklin & Marshall College, says the advantages Rothfus has in this race are overwhelming, including his support for Republican presidential nominee Donald Trump.
"The big [advantage] might be the strong support for Trump in the [12th] district," Madonna wrote to CP. "[Rothfus] does not have to worry about the down-ballot effect. Also, the race has no zip to it. It's not on anyone's radar."
Prior to the 2012 election, the 12th District was redrawn, and Rothfus has held the seat ever since; in 2014, he defeated McClelland by more than 18 percentage points. The new district, which traverses six counties, now resembles a snake crossed with a hammer. Initially, the giant district was gerrymandered to be a dumping ground for pockets of Democratic voters in other Republican strongholds, making surrounding Republican districts more safely conservative. However, it didn't make the 12th District more Democratic as presumed, since it has now become more Republican.
This year, Trump has a strong presence in the 12th where he has packed rallies and his yard signs are a common sight on district lawns. But this isn't a new phenomenon. Mitt Romney beat Barack Obama there by 17 points in 2012. And in 2008, when the district's congressional seat was clearly in Democratic hands, the district chose Republican John McCain over Obama by nearly 10 points.
Even though the odds are against her, Braddock Mayor John Fetterman, who has been campaigning with McClelland, hopes she can pull off an upset.
"She can stand in front of group of steelworkers covered in soot, wearing high heels and get them cheering like I have never seen it," says Fetterman. "[McClelland] is so charismatic and committed, and can get those Republicans to cross over to vote for someone like her."