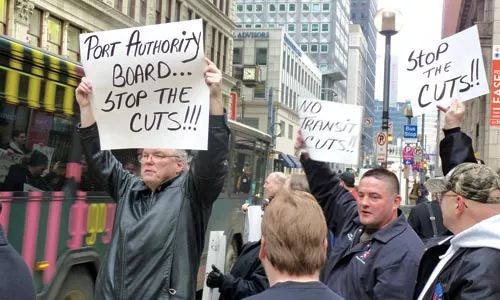 Gov. Tom Corbett talked about a lot of things in his March 8 budget speech. Transportation wasn't one of them.
While education bore the brunt of Corbett's axe -- like a proposed 50 percent funding cut for state-related and state-owned universities, for example -- transportation funding also saw a proposed 3 percent decrease.
Overall, Corbett's budget called for about $6.3 billion in transportation spending, which includes roads, bridges and mass transit. It draws funds from Act 44, the funding formula for transportation. But thanks to the federal government's rejection of the state's application to toll I-80, funds are allocated at levels nearly half what was once anticipated in 2010.
The proposed budget allots just more than $1 billion toward public transportation for this year, which is almost identical to the amount budgeted last year.
Other than that, Corbett's budget "didn't have a lot of detail," says state Sen. Wayne Fontana, D-Brookline. "We will be asking some pointed questions as to what those details are: how specifically we're going to fund it. What do we need to do to fund mass transit? I don't see that in the budget."
As for Port Authority of Allegheny County, Corbett's budget details also aren't all that specific yet. "We haven't seen any numbers," says Jim Ritchie, the authority's spokesman.
In the meantime, the Allegheny County transit agency can't seem to catch a break. Its efforts to address uncertainty in Harrisburg, in fact, are prompting threats of more cuts back home.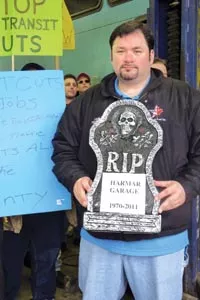 Effective March 27, the authority already plans to eliminate 29 routes and significantly reduce 37 others. More than 30 neighborhoods -- including Glassport, Groveton, Natrona and Port Vue -- will be without service entirely in the core of their communities. Other areas, like Edgewood and South Oakland, will see a significant reduction. The Port Authority will also lay off about 190 employees.
Such cuts weren't supposed to happen -- at least not so soon. In December, outgoing governor Ed Rendell provided the Authority with $45 million from a discretionary fund. That money filled a hole left by the failure of Act 44, averting an immediate budget crisis.
The Southwestern Pennsylvania Commission, a 10-county regional planning board, approved allocating the money for the Authority's current fiscal year.
That money would have only staved off the need to make any cuts through June 2011, Ritchie says. But at a Feb. 25 board meeting, Steve Bland, Port Authority CEO, cautioned that Corbett might not be as generous as his predecessor. Taking some cuts now, he argued, would allow the agency to stretch out Rendell's "gift," and minimize much deeper cuts later on.
"Unless no new gift falls from the sky, [the Authority] would be faced with the prospect of cutting services to a level that would damage the entire region," Bland said. If the Port Authority used all of that $45 million now and no funding solution came through, he said, the agency estimated there'd be a 35 percent or worse service cut next year.
The board agreed to scale back service sooner rather than later. That decision prompted the March 27 cuts -- and a storm of protest from riders, public officials and the Amalgamated Transit Union Local 85 (ATU).
"Port Authority should have used the $45 million to keep everything intact" for this year, Fontana says. "Regardless if they cut now, they're going to cut later again. They don't have someone who will throw all the money they need at them."
Fontana says he's been "pounded with e-mails" since the board approved the 15 percent cut. "They don't have anyone convinced that was the right thing to do except their board. ... Public opinion is against them."
And by trying to protect funding in the future, the agency may have jeopardized the money it has today. On March 15, Allegheny County Council President Jim Burn announced legislation to reduce the county's own transit subsidy, from $27.7 million to about $22 million.
Burn says that the county has been providing about an 18.4 percent match to the Port Authority, even though state law requires only a 15 percent local reimbursement. He's reducing the county's support, he says, because of the Port Authority's "last-minute swerve" toward service cuts -- despite taking money from Rendell to avert them.
"I will not condone over-subsidizing an entity that refuses to keep its word to the public," Burn said in a statement.
In a subsequent interview, Burn says the Port Authority's decision to cut today just delays the day of reckoning -- and weakens the agency's position.
"It only dilutes the urgency," he says. "It creates the perception that it's not the crisis it really is. This debate needs to happen now -- not in 18 months. ... [T]hey keep slapping Band-Aids on this thing instead of taking the problem head on."
At press time, Ritchie at the Port Authority said officials hadn't calculated the impact of Burn's proposal -- except to say that any reduction "puts us in a position where we have less money to pay for service. That's what we've been facing all year."
What's more, says Ritchie, "The county money triggers far greater amounts of funding at state levels. ... If the county pulls that amount of money, how is the state going to respond? There's a lot of uncertainty."
But Burn says that uncertainty is precisely what he's trying to end. "Show me where in 18 months the atmosphere is going to be any different than it is today or six months from now," he says. Sooner or later, he adds, tens of thousands of county residents will "lose their jobs because they can't get to work. I don't think this crisis will go unappreciated by the [Corbett] administration.
Transit officials are "in a rock and a hard place, and we know that," Burn adds. "But they don't have to be."
Many cash-strapped communities, and the agencies that serve them, are between a rock and a hard place, too.
"A lot of communities are just starting to get back on their feet and now losing the one asset they have," says Chris Sandvig, regional policy manager at the Pittsburgh Community Reinvestment Group. "Transit is not welfare. Transit is an affordable form of transportation that allows people to live productive lives. And we're taking that away."
Some have already felt the pinch. Bus fares were hiked in January, and programs like Communities in Schools of Pittsburgh-Allegheny County expect to face additional challenges after the March 27 cuts.
CISPAC runs three learning academies -- each targeting former school dropouts -- in Alle-Kiski, Pittsburgh's East End and Homestead. Executive Sirector Nicole Molinaro says most of the 250 students enrolled in the programs will be affected by transit cuts. "These students all re-committed to their education and are now faced with putting hours and hours into their commute," she says.
Students, she says, are already facing enough barriers: More than one-third have children themselves, while more than half have past drug or alcohol problems.
CISPAC plans to hire a van to pick up students from just one of the 20 school districts it works with -- even as the agency is "trying to pinch pennies," Molinaro says. And ultimately, she says, transit cuts are self-defeating: Without a diploma, she warns, too many CISPAC students will "end up unemployed; some end up in jail. It ends up costing our community a lot more than any transit cut."
The bottom line, Bland told authority board members last month, is that "there is a fundamental problem with how the state funds transportation."
State lawmakers agree. State Rep. Rick Geist (R-Altoona) acknowledges that Corbett's budget "has yet to address that. But he will."
Geist, who chairs the House transportation committee, has proposed a funding bill of his own, which he calls a "really good start" to determining a sustainable funding base. Under his bill, the government agency would retain ownership of transportation assets, while private business develops, operates or finances a project. So government entities would contract out the work of maintaining, expanding and building roads, bridges and other transportation infrastructure, while busineses would have the right to profit from managing the infrastructure, such as with tolls. Geist says the influx of private funds could help complete work that the state couldn't afford to complete otherwise.
Though primarily designed for roads and bridges, Geist says this model could be used for mass transit, too -- for example, if a private entity wanted to help manage a transit agency's parking system. And while he doesn't have exact figures yet on how much cost savings and revenue the plan would generate for transportation in the state, Geist says, "The early projections are frighteningly good."
But he notes funding could face some opposition, with some lawmakers who want to wipe out Act 44, which under Corbett's budget offered $200 million for roads and bridges and $250 million for mass transit. "I want to put together a whole gaggle of sources so we can give predictable based funding to PennDOT for the next 12 years," Geist says.
But for now, Corbett's budget proposal means the March 27 cuts will still go into effect, at least through June 2012.
And what happens if the state doesn't have more funding in place by then?
"At that point," says authority spokesperson Ritchie, "it's a big question mark."
Pittsburghers for Public Transit will hold a rally at noon, Sat., Match 19, at Beacon Street and Murray Avenue in Squirrel Hill. The group will then march to Forbes and Murray avenues, for a second rally at 1 p.m.