As a big fan of horror movies and warehouses, I was pretty jazzed when the folks behind ScareHouse invited me to tour their new Halloween venue in the Strip District. Opening later this month, "The Scream District" will feature an updated version of The Basement, ScareHouse's immersive horror experience that Elijah Wood once called "really intense;" and the brand new escape room Stalked By A Killer, which involves a scenario in which guests have one hour to solve a "series of fiendish puzzles from the mind of a deranged maniac."

But on the day I visited, those features were still in the construction phase — a crew of 15-20 workers zoomed around with tools, sawing, nailing, running cords, hanging lights, and carrying heavy-looking boxes while a journalist took pictures and shouted questions at them, which is a form of horror all its own.
The Scream District is located in a nondescript warehouse next to a nondescript AT&T store at 24th Street and Penn Avenue. On the day of my tour, the sound of power tools drew me inside, where I encountered a great deal of sawdust and an abundance of bloody dummies. You expect an enterprise like this to have bloody dummies, but nothing can prepare you for just how stacked they are in this department (there are literally stacks of them throughout the building). Even though I had tour guides, and it was daytime, and the sets weren't even complete, it was unnerving to be in the company of so many mannequins outside the context of shopping for v-necks. In that moment, I decided that I am scared of mannequins when they are stacked and covered in blood.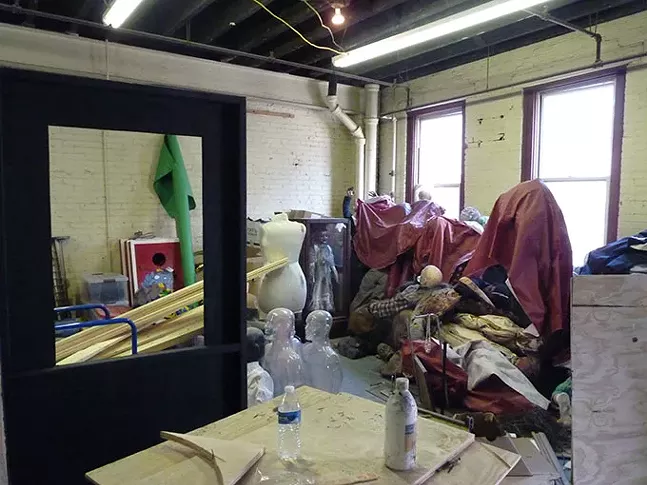 Other horror paraphernalia was strewn about, including clothing for dolls/children, yellow police tape, and a rusty IV. This was all in the workshop, a handsome, well-lit space where the
ScareHousers
store props and build what needs building. Not really part of the tour, but it was neat.
Since this was a journalistic/publicity endeavor, I trusted my guides — creative director Scott Simmons and John Singh of J2 Communications — not to try any funny business and make me the target of an early-admission spooking. I considered writing an email before I left my office asking them to please not mess with me on the tour because I just wanted to take pictures of spooky shit and get to leave work early. But since these experiences require waivers (which is publicized both as legal diligence and a notch on their belt), I figured they'd probably leave me alone. (Note: Simmons and Singh were professional and very nice and did not pull any tricks, but I still kept my guard up for the duration.)
First, I got to check out the room for Stalked By A Killer and met the guy in charge of designing it, whose name I forgot/couldn't hear over the sound of the saws, which was funny because the escape room looked a lot like the room from SAW 1. I said, "This looks like the room from SAW 1," and Simmons quickly listed off other cinematic influences and I wondered if this was meant as a legal distinction, though it's not like SAW has a copyright on bathrooms with unpleasant lighting.
The Escape Room Builder explained that he likes to design challenges that have a 30-40 percent success rate, which seemed low, but he went on to clarify that the experience should be enjoyable regardless of the result. The Escape Room Builder and his company have worked on escape rooms all over the world, including one recently in Kuwait, so I trusted that he knew his business. They were all mum on specifics of the puzzles.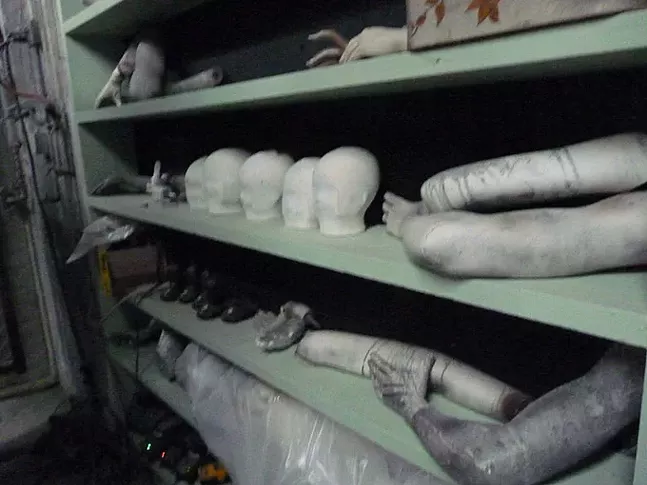 Simmons and Singh walked me through more hallways stacked with more mannequin parts. Simmons explained that while our tour resembled the traditional haunted house linear route — going from room to room and getting scared of things in a predetermined order — the actual experience of The Basement is not linear or traditional and pointedly plays on that familiar structure. I don't really know what that would mean in practice and he did not tell me.
We arrived at a room that could only be described as "filled with dolls." Some were deliberately designed to be creepy, while the rest were doing it incidentally. I asked where one can find this many dolls and Simmons explained that ScareHouse had been accumulating them from garage sales, antique shops, toy stores, and Goodwills for many years. When you're in this business, you can never have enough dolls.
Next they showed me part of the bathroom wall that was being constructed for the escape room, and pointed out that the patchwork of dilapidated tiles was not rusted out naturally, but designed with intention. I don't know how the builder chose which tiles to remove, but they did a terrific job.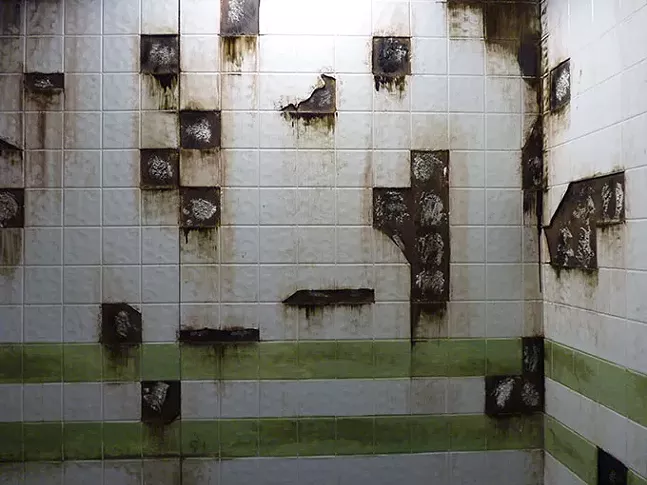 We circled back and passed a couple of life-sized zombies rocking ScareHouse shirts and lurching ominously toward more mannequins in plastic body bags. It was around here that I had my first genuine jump of the day: the sight of a young woman curled up on the floor in what appear to be her pajamas.
My mind had been lulled into a false sense of comfort by the zombie brand ambassadors, who, while probably spooky in their placement in the actual ScareHouse, are relatively vanilla in the context of a guided tour. So stumbling on this very real looking human doll in a very real looking posture of fear completely jacked me up. And I wasn't alone. Simmons and Singh, who do this for a living and spend every day here, acknowledged that this particular doll still spooks them as well. I pulled my camera up to my face and snapped a picture of the doll, and jumped again when I lowered the camera back down. I had learned nothing.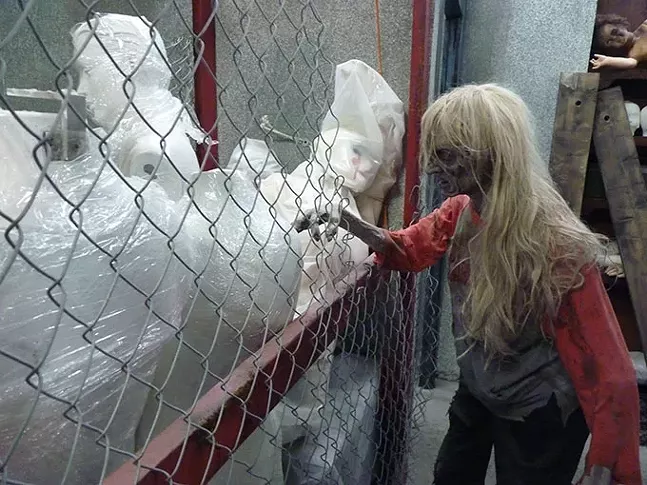 This happened a few times. I jumped at things I had just jumped at a minute before, then jump again after I took the picture ("jump" here meaning "become lightly startled"). My tour was nothing like what visitors will experience when this thing is up and running, but I was so sure that these troublemakers were setting me up for a prank of sorts that the edginess made me more susceptible to being startled ... which, actually, isn't all that different from the authentic ScareHouse experience in that I was being guided blind through an unfamiliar place by two guys who run a haunted house, which is a description of most haunted houses. The lights were on and I was technically being paid to partake, but otherwise, I think I can legally say I've completed The Basement 2019 and kept my composure.
Simmons, Singh, and I wrapped up in their office upstairs where an actor was being made up for a test run. The office had a kitchen and a dog and a couch and books and paintings, all of which I eyed dubiously in the belief that some final scare was coming. What was up with all that breakfast cereal? Whose dog is that? This is what spending time at a haunted house does to you, it convinces you that every mundane object in every room you step into has something to hide, the capacity for mischief, that a chair or a desk could hold a grudge.
But sometimes a box of Cheerios is just a box of Cheerios. Sometimes.
__
ScareHouse's 2019 season runs Fri., Sept. 27-Sun., Nov. 3 at 2420 Penn Ave. More information and tickets can be found at scarehouse.com.